Pardon this intrusion, this blog is here due to site owner's personal interest in the topic.  We have not monetized this website it is a hobby site.  :)
Enabling a safe digital advertising ecosystem
(Thu, 14 Mar 2019)
Google has a crucial stake in a healthy and sustainable digital advertising ecosystem—something we've worked to enable for nearly 20 years. Every day, we invest significant team hours and technological resources in protecting the users, advertisers and publishers that make the internet so useful. And
every year
, we share key actions and data about our efforts to keep the ecosystem safe by enforcing our policies across platforms.

Dozens of new ads policies to take down billions of bad ads In 2018, we faced new challenges in areas where online advertising could be used to scam or defraud users offline. For example, we created
a new policy
banning ads from for-profit bail bond providers because we saw evidence that this sector was taking advantage of vulnerable communities. Similarly, when we saw a rise in ads promoting deceptive experiences to users seeking addiction treatment services, we consulted with experts and restricted advertising to certified organizations. In all, we introduced 31 new ads policies in 2018 to address abuses in areas including third-party tech support, ticket resellers, cryptocurrency and local services such as garage door repairmen, bail bonds and addiction treatment facilities. We took down 2.3 billion bad ads in 2018 for violations of both new and existing policies, including nearly 207,000 ads for ticket resellers, over 531,000 ads for bail bonds and approximately 58.8 million phishing ads. Overall, that's more than six million bad ads, every day.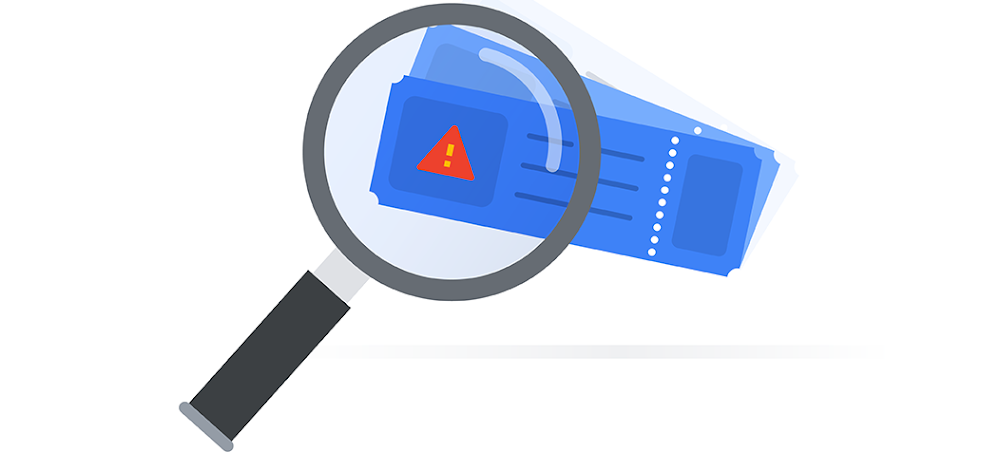 As we continue to protect users from bad ads, we're also working to make it easier for advertisers to ensure their creatives are policy compliant. Similar to our
AdSense Policy Center
, next month we'll launch
a new Policy manager
in Google Ads that will give tips on common policy mistakes to help well-meaning advertisers and make it easier to create and launch compliant ads. Taking on bad actors with improved technology Last year, we also made a concerted effort to go after the bad actors behind numerous bad ads, not just the ads themselves. Using improved machine learning technology, we were able to identify and terminate almost one million bad advertiser accounts, nearly double the amount we terminated in 2017. When we take action at the account level, it helps to address the root cause of bad ads and better protect our users. In 2017, we launched new technology that allows for more granular removal of ads from websites when only a small number of pages on a site are violating our policies. In 2018, we launched 330 detection classifiers to help us better detect "badness" at the page level—that's nearly three times the number of classifiers we launched in 2017. So while we terminated nearly 734,000 publishers and app developers from our ad network, and removed ads completely from nearly 1.5 million apps, we were also able to take more granular action by taking ads off of nearly 28 million pages that violated our publisher policies. We use a combination of manual reviews and machine learning to catch these kinds of violations. Addressing key challenges within the digital ads ecosystem From reports of "fake news" sites, to questions about who is purchasing political ads, to massive ad fraud operations, there are fundamental concerns about the role of online advertising in society. Last year, we launched a
new policy
for election ads in the U.S. ahead of the 2018 midterm elections. We verified nearly 143,000 election ads in the U.S. and launched a new
political ads transparency report
that gives more information about who bought election ads. And in 2019, we're launching similar tools ahead of elections in the
EU
and
India
. We also continued to tackle the challenge of 
misinformation
 and low-quality sites, using several different policies to ensure our ads are supporting legitimate, high-quality publishers. In 2018, we removed ads from approximately 1.2 million pages, more than 22,000 apps, and nearly 15,000 sites across our ad network for violations of policies directed at misrepresentative, hateful or other low-quality content. More specifically, we removed ads from almost 74,000 pages for violating our "dangerous or derogatory" content policy, and took down approximately 190,000 ads for violating this policy. This policy includes a prohibition on hate speech and protects our users, advertisers and publishers from hateful content across platforms.   How we took down one of the biggest ad fraud operations ever in 2018 In 2018, we worked closely with cybersecurity firm White Ops, the FBI, and others in the industry to take down one of the largest and most complex international ad fraud operations we've ever seen. Codenamed "3ve", the operation used sophisticated tactics aimed at exploiting data centers, computers infected with malware, spoofed fraudulent domains and fake websites. In aggregate, 3ve produced more than 10,000 spoofed, fraudulent domains, and generated over 3 billion daily bid requests at its peak. 3ve tried to evade our enforcements, but we conducted a coordinated takedown of their infrastructure. We referred the case to the FBI, and late last year charges were announced against eight individuals for crimes including aggravated identity theft and money laundering. Learn more about 3ve and our work to take it down on our
Security Blog
, as well as through this
white paper
that we co-authored with White Ops. We will continue to tackle these issues because as new trends and online experiences emerge, so do new scams and bad actors. In 2019, our work to protect users and enable a safe advertising ecosystem that works well for legitimate advertisers and publishers continues to be a top priority.
>> Read More
Grow your games business with ads
(Wed, 13 Mar 2019)
There's so much that goes into building a great mobile game. Building a thriving business on top of it? That's next level. Today, we're announcing new solutions to increase the lifetime value of your players. Now, it's easier than ever to re-engage your audience and take advantage of a new, smarter approach to monetization. Help inactive players rediscover your game Let's face it, the majority of players you acquire aren't going to continue engaging with your game after just a handful of days. One of the biggest opportunities you have to grow your business is to get those inactive players to come back and play again. We're introducing App campaigns for engagement in Google Ads to help players rediscover your game by engaging them with relevant ads across Google's properties. With App campaigns for engagement, you can reconnect with players in many different ways, such as encouraging lapsed players to complete the tutorial, introducing new features that have been added since a player's last session, or getting someone to open the game for the first time on Android (which only Google can help with). Learn more about it
here
or talk to your Google account representative if you're interested in trying it out.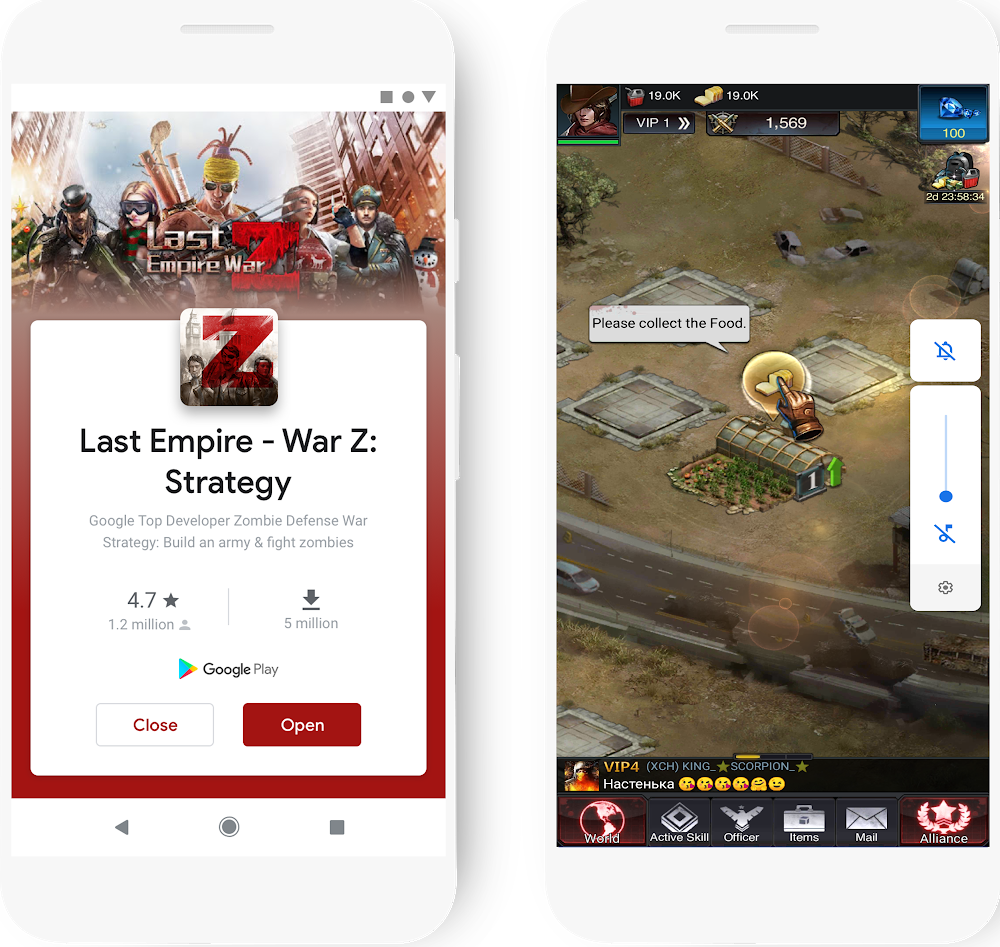 Generate revenue from non-spending players Acquiring and retaining users is important, but retention alone doesn't generate revenue.  Our internal data shows that, on average, less than four percent of players will ever spend on in-app items. One way to increase overall revenue is through ads. However, some developers worry that ads might hurt in-app purchase revenue by disrupting gameplay for players who do spend. What if you could just show ads to the players who aren't going to spend in your app? Good news—now you can. We're bringing a new approach to monetization that combines ads and in-app purchases in one automated solution. Available today, new smart segmentation features in Google AdMob use machine learning to segment your players based on their likelihood to spend on in-app purchases. Ad units with smart segmentation will show ads only to users who are predicted not to spend on in-app purchases. Players who are predicted to spend will see no ads, and can simply continue playing.  Check it out by creating an interstitial ad unit with smart segmentation enabled.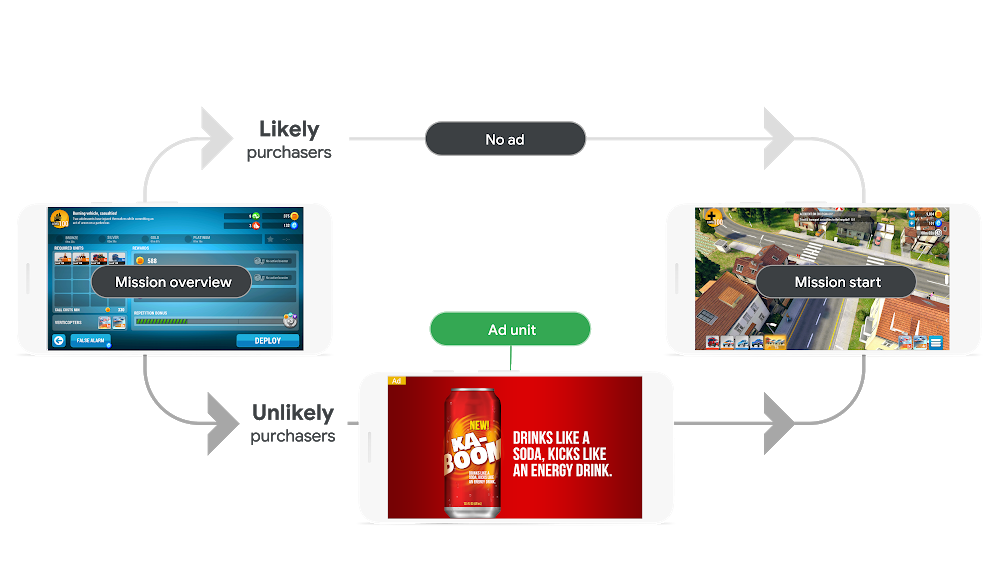 To learn more about news ways to help you increase the lifetime value of your players, please join us at the Game Developers Conference. Location and details are below: What: Google Ads Keynote Where: Moscone West, room #2020 When: Wednesday March 20th at 12:30 PM I'm excited for the week ahead and all the new games you're building—I'm always on the lookout for my next favorite.
>> Read More
Google Marketing Live broadcast on May 14th: register today
(Tue, 12 Mar 2019)
Did you know that searches for "best" have increased by 80% in the last two years? For example, in recent third-party research, we saw that some people spend over 50 days searching for the "best chocolate" before making a decision. Google Marketing Live is happening on May 14th—
register now
to discover how to take action on new consumer insights like these and learn about the latest digital marketing products from Google. For the first time, we'll also be live streaming 8+ hours of additional content from the event. Engage directly with product managers through live Q&A, learn new best practices, and get an inside look at how our latest products are developed.
>> Read More
Take your mobile games business to the next level with Google AdMob and Google Ads at GDC
(Thu, 07 Mar 2019)
Each year, the global games community gets together in San Francisco for the
Game Developers Conference
(GDC), a major industry event for developers, publishers, and business professionals working in games to learn, get inspiration, and make new connections to grow their business.  This year at GDC, our Google AdMob and Google Ads team have several sessions and activities lined up to share the latest product innovations and best practices, all geared toward helping you grow and scale your mobile games business through user acquisition and monetization. To help you navigate all the content and plan your agenda more easily, here's a preview of the major speaking sessions and activities that we have planned for you. Talks Monday, March 18 Google Mobile Developer Day: 3 tips to help your mobile games business succeed  Time and location: 12:10 - 12:25 PM at Moscone West (room #2020) Speaker: Duke Dukellis, Director, Product Management, Mobile App Advertising, Google Summary: Join this session to hear pro tips on how to enhance your monetization strategy with better user experience design and innovative new ways to monetize non-purchasers to maximize growth and revenue. The session will be available via
livestream
.  Wednesday, March 20 Google Ads Keynote: Growing your games business with ads Time and location:12:30 - 1:30 PM at Moscone West (room #2020) Speaker:Sissie Hsiao, VP of Product, Mobile App Advertising, Google Summary:The global gaming industry has become increasingly competitive. At Google we have been investing in providing new tools and solutions to help you stay ahead of the curve by gaining a loyal fanbase and building sustainable revenue streams. Join this keynote to learn about Google's latest growth and monetization innovations that make it easier for developers to grow their user base and find and retain high-value players. Google Booth Talk: Rewarded ads best practices Time and location: 4:00 - 4:30 PM at the Google Booth Theatre Speaker: Ed Weng, Product Manager, Google AdMob Summary: Designed with practitioners in mind, join this session to learn best practices for rewarded ads with real-world examples to help you implement and optimize this popular, player-friendly ad format. Thursday, March 21 Google Breakout Session: Making the most of Google's app ads and monetization innovations for strategy and casual games Time and location: 10:00 - 11:00 AM at Moscone West (room #3009) Speakers: Ed Weng, Product Manager, Google AdMob; Jennifer Lui, Product Manager, Mobile App Ads, Google Summary: Get the inside scoop on how to leverage Google's advertising solutions for your games. Whether your game is strategy or casual, our experts will share pro tips on user acquisition and monetization to help you deliver the very best app and ads experience to your players. Google Booth Talk: Optimizing monetization strategies for casual games Time and location: 10:00 - 11:00 AM at Moscone West (room #3009) Speakers:Ed Weng, Product Manager, Google AdMob; Daehyun An, Global Product Lead, Mobile Apps, Google Summary: Casual games have enjoyed rapid growth in the past few years. Join our product experts and learn tried-and-true tips with real world examples to help you enhance your user acquisition and monetization strategies for this game category. Google Booth Talk: Optimizing monetization strategies for strategy games Time and location:10:00 - 11:00 AM at Moscone West (room #3009) Speakers: Ed Weng, Product Manager, Google AdMob; Kyle Rapp, Global Product Lead, Mobile Apps, Google Summary: With a focused and valuable player base, strategy games are faced with unique challenges. Join this session to learn actionable tips and best practices to grow your strategy game while unlocking new monetization opportunities. Activities March 20 to 22 Explore new ways to level up your gaming business at the Google booth  Time and location: 10:00 AM - 5:00 PM daily in the Central Hall of the
Moscone Convention Center
What to expect:Come visit us in person at GDC to explore new products and learn about feature launches across Google products. From Google Ads, AdMob, Cloud, and Maps, learn about ways to take your game to the next level.  Wednesday, March 20 Connect with the gaming community at the Google Mixer Time and Location:6:00 - 10:00 PM at
Mezzanine
What to expect: Join fellow game professionals from around the world at the Google Mixer to network, wind down, and have some fun. This is an invitation-only event so please contact your account manager at Google if you're interested in attending.  We're excited to share new product innovations, industry insights, and best practices at this year's GDC to help you take your mobile games business to the next level. We hope to see you there!
Follow us on Twitter
to get live coverage from the event and more.
>> Read More
Connecting you to visual shoppers with new ad formats on Google Images
(Tue, 05 Mar 2019)
A recent study shows that Google is the first place US shoppers go to discover or find a new brand or product. But shoppers aren't just doing their searches on Google.com. We've seen that 50 percent of online shoppers said images of the product inspired them to purchase, and increasingly, they're turning to Google Images. That's why we're investing in shopping solutions across more of our properties, like Google Images. When we launched Shopping ads on Google Images, we wanted to provide advertisers with a new way to reach shoppers where they're looking for more visual inspiration. Now, we're introducing shoppable ads on Google Images as another way we're helping you connect with consumers. This new format enables you to highlight multiple products available for sale within your sponsored ad among Google Images results. We're currently testing this on a small percentage of traffic with select retailers, surfacing on broad queries like "home office ideas", "shower tile designs", and "abstract art".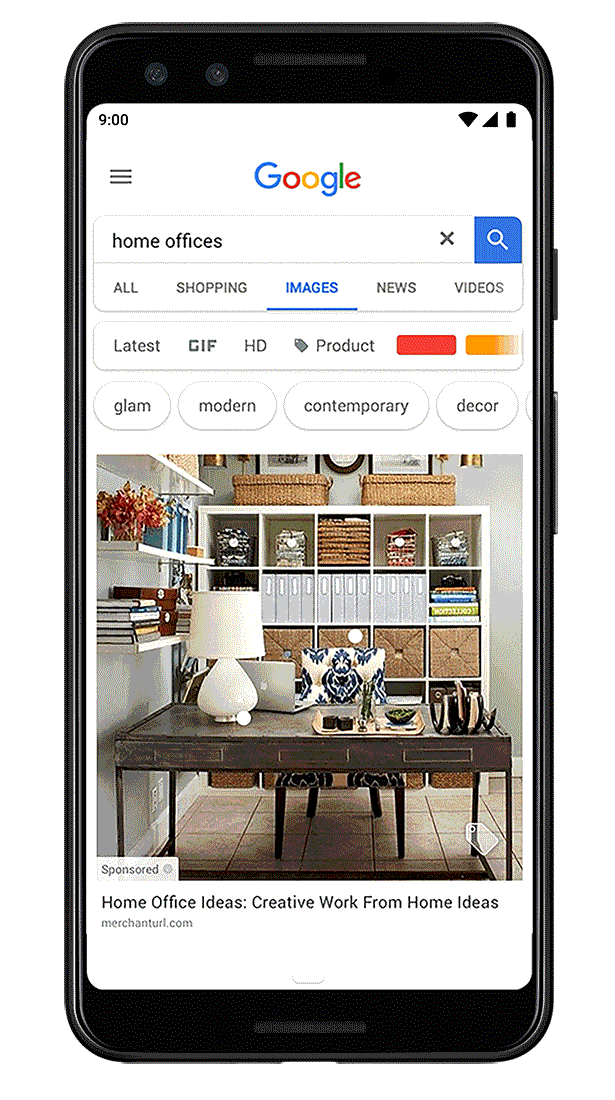 Let's say a shopper is searching for home office ideas on her mobile device or desktop and goes to Google Images to explore ideas around how to organize her room. She can scroll through the images, hover over any sponsored ad with the price tag, and see the items for sale in the image -- along with prices, the brand, and more. We'll continue to roll this out to more categories across more retailers over the next few months.   Moreover, advertisers have been benefiting from
Showcase Shopping ads
, which lets you promote your brand and products through beautiful imagery, descriptions, and relevant promotions. Since launch, thousands of retailers and brands in 17 countries are running Showcase Shopping ads to reach new customers in their inspiration phase. Now, we're bringing Showcase Shopping ads to Google Images as well, offering shoppers a more inspirational and rich visual experience.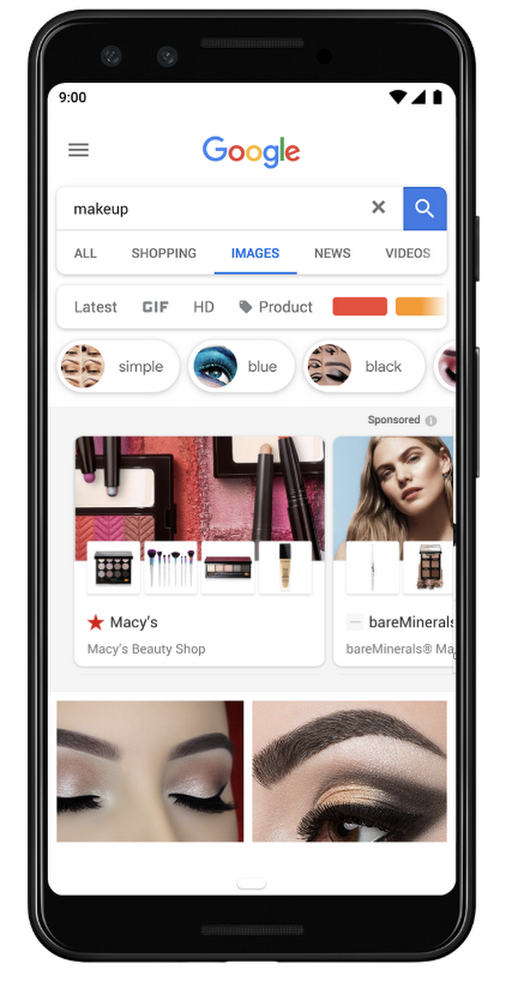 And last month, we shared that we're expanding Merchant Center as a platform to power shopping experiences beyond advertising on
surfaces across Google
. Now, in addition to using markup solutions that we've long had available, retailers can provide product data to Google, free of charge, so that we can start showing more of your product information to potential shoppers. Today's consumers are interacting with us across a multitude of touchpoints, searching and asking for ideas. To help inspire them, we're continually thinking of ways to create better shopping experiences. And, we want to continue partnering with retailers like you so we can help consumers in these moments that will drive them to the final purchase.
>> Read More
Tools to build a better mobile experience
(Sun, 24 Feb 2019)
It's been twelve years since the dawn of the mobile era—a span where we've witnessed what can seem like a lifetime's worth of digital innovation and new platforms. Apps. Voice-activated assistants. AR. VR. It's an age of digital plenty, and one that can make it easy to forget a plain truth: the mobile web is still the most widely used platform. Because mobile is where most people turn when they want to know, go, do or buy, it's important to deliver the kind of mobile experience that people expect today: one that's fast, engaging and doesn't get in the way of what they want to accomplish. And because Google is deeply invested in the success of marketers and brands, we never stop looking for ways to develop and support new tools and innovations that can move the industry forward. With this in mind, today we're introducing two new updates: a top-to-bottom rebuild of Test My Site, and more availability and growth of Rich Communications Services (RCS) Business Messaging. Test My Site One of the mobile era's clearest lessons has been that the foundation for any great mobile experience is a fast mobile experience. How important is a fast mobile experience? According to SOASTA's The State of Online Retail Performance, a one-second delay in mobile load times can impact conversion rate by up to 20%. That's why in 2016 we created Test My Site, a tool for businesses to check the speed of individual mobile pages and get a few recommended fixes. But moving at the speed of mobile means making the adjustments needed to continuously improve.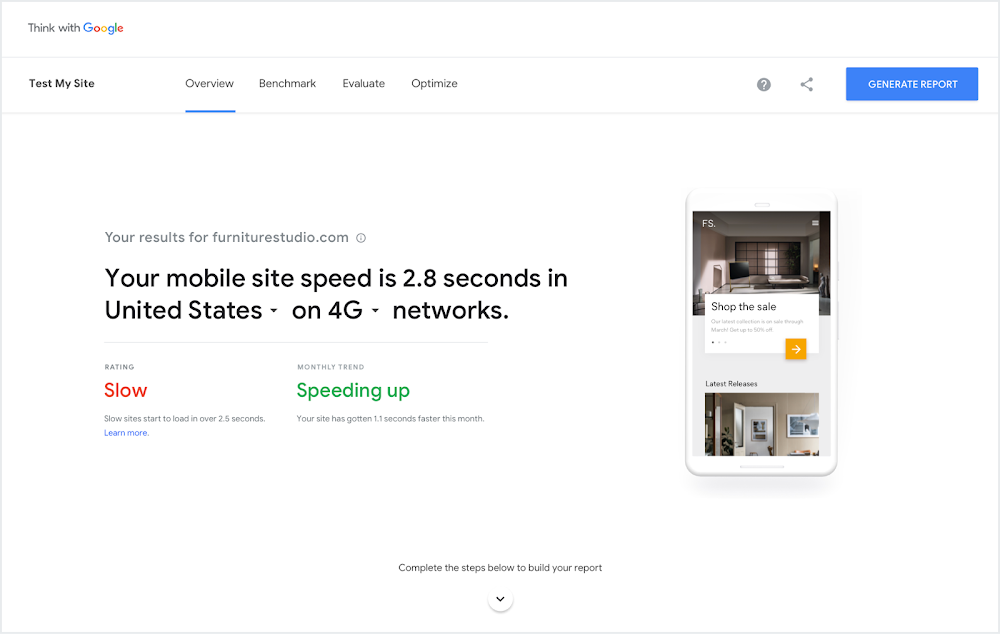 So with the new
Test My Site
, businesses can now see: The speed of both their entire site and of individual pages  Whether their site/page speed is faster or slower compared to the prior month Whether their site speed/page speed ranks Fast, Average, or Slow How their site speed compares to others in the industry  The potential impact of site speed on revenue A detailed list of recommended fixes to increase speed on up to 5 pages on their site A complete report to share with their team With the new Test My Site, businesses have a single destination to measure, benchmark and take action on mobile site speed—the first step toward a great mobile experience. RCS Business Messaging Messaging is another area where businesses can improve the mobile experience. SMS, the format millions of businesses rely on today to reach mobile consumers, is limited to 160 characters and very few images and interactions. RCS upgrades SMS with branding, business verification, rich media, suggested replies and actions, and analytics. One of the traditional tradeoffs for rich messaging experiences has been slower loading, but with RCS, businesses can deliver fast, branded, interactive experiences right to a mobile phone's default messaging app. Google is partnering with the mobile industry to modernize mobile messaging and deliver better consumer experiences with RCS. To learn more about RCS Business Messaging, visit our
website
. Brands are already using RCS in a variety of ways, from promoting deals of the day to letting customers refill prescriptions or check their account balances, all within the native messaging experience on Android. For example, with Overstock, customers can get purchase, shipping and delivery confirmation as well as the option to rate a purchase after delivery or connect directly with customer service. With Citi, select U.S. credit card and retail bank customers can quickly check their balance, see a short history of recent transactions and more. With Walgreens, patients receive prescription refill reminders and notifications for when orders are ready for pick up. And with Broxel, people can pay their utility bills, check their account balances, send funds or connect directly with customer service. DPD customers will soon be able to use RCS to get package delivery notifications with the option to update their drop off locations. And Vaillant customers will be able to change appointments, provide feedback, and connect with a live agent. All of these brands will enhance the customer's experience on mobile using RCS. In addition, many more brands in Europe will bring RCS experiences to their customers in the coming months. A lot has changed over the last 12 years, but one thing that hasn't changed is mobile's unmatched capacity to drive business growth. With Test My Site and RCS Business Messaging, businesses have two powerful tools to deliver the kinds of experiences necessary to drive that growth—at the speed of mobile.
>> Read More
App campaigns make their landing: introducing a simpler name for Google's app ad solution
(Wed, 20 Feb 2019)
People reach for their mobile phones throughout the day for help getting things done. And it's often a mobile app that delivers what they need—whether it's a new pair of rain boots or a puzzle game to pass the time during a commute. Universal App campaigns help connect your app with more of these app-happy consumers. Today, we are simplifying the name of "Universal App campaigns" to "App campaigns." This move will not affect campaign features or functionality, and there's no action required for existing app promotion customers. App campaigns will join Search, Display, Video, Shopping and Smart as the top-level campaign names available in Google Ads.

Here's the full list of Google Ads campaign types after the App campaigns name change App campaigns use Google's machine learning technology to help you find the users that matter most to you, based on your defined business goals—across Google Search, Play, YouTube, and over three million sites and apps—all from one campaign. To date, App campaigns have delivered unprecedented results for the developer community—helping drive more than 17 billion app installs, according to Google Internal data from 2019. We hope this more direct name will help advertisers and developers get started with Google Ads and select the right campaign type for their business goals. You'll start to see these changes roll out over the next month. We'll talk more about this change—and other new App ad innovations—at the
Game Developers Conference
 in San Francisco in mid-March. We hope to see you there!
>> Read More
Using AMP to make display ads safer, faster and better for users
(Wed, 20 Feb 2019)
The performance benefits and security guarantees offered by
AMPHTML ads
, which are display ads created using the
AMP
framework, translate to better advertiser ROI, publisher revenue and overall better user experience. Because of this, Google has expanded serving AMPHTML ads not only to AMP pages, but also to regular web pages. As of January this year, 12% of all display ads served by Google are now AMPHTML ads. All of the code in the 
AMP repository
 is open source which is carefully reviewed by the project maintainers before being merged. As a result, ads written in AMP start performant and stay performant. Such a process also drastically reduces the likelihood of AMPHTML ads having code that takes advantage of 
chipset level vulnerabilities
 or drain CPU by crypto-mining from users' devices.  Since AMPHTML ads can be trusted, they can be rendered into a more performant same-origin iframe. This performance boost results in the ad rendering faster on page which translates to higher publisher revenue and better advertiser ROI.

Experiment results from
GPT.js
rendering AMPHTML ads in a same-origin vs cross-origin iframe AMPHTML ads on AMP pages deliver even better ROI An AMPHTML ad delivered to an AMP page has better performance compared to the same ad running on a regular web page. This is due to the inherent design of AMPHTML ads outlined
here
, giving advertisers better click through rates and viewability. AMP pages have seen steady growth over the past few years and advertisers now have access to well over 1 billion impressions/day worth of premium (from a user experience & ad experience standpoint) inventory. In addition, more than 35 percent of ads served to AMP pages are already AMPHTML ads. Publishers and Advertisers seeing success with AMP pages and AMPHTML ads The news publisher EL PAIS partnered with Volkswagen, one of their advertisers, to run a multivariate A/B test measuring how Volkswagen's display ads created in AMPHTML vs HTML5 would perform on AMP vs regular pages. Simply moving from a standard HTML page to an AMP page (with the same HTML5 ad) resulted in a 26 percent CTR increase. Moving further to an AMP page with AMPHTML ads resulted in an additional 48 percent CTR increase.

Increase in performance metrics when combining AMP pages with AMPHTML ads You can read the full case study
here
. Getting started with AMPHTML ads for advertisers AMPHTML ads are a subset of the AMP spec and ships with many good-by-default ads UI components, an analytics measurement framework, a spam detection system, viewability measurement and other building blocks to create a good and measurable ad. We encourage you to read more about the
benefits of using AMPHTML ads
, but if you want to jump ahead to start creating them,
this
is a good place to begin. Once you have created the ad, you can choose one of the following options to serve AMPHTML ads:
Work with an Authorized Buyer
that allows to target just AMP or regular inventory Use
Google Ads
to target inventory in the Google Display Network Direct buy with
publishers using Google Ad Manager
[Coming Soon]
Display & Video 360
support to deliver AMPHTML ads to AMP pages Google continues to invest in delivering better user ad experiences by increasing the share of AMPHTML ads vs regular ads. Once mobile app support launches in Q2, 2019, advertisers can fully transition to creating a single AMPHTML ad and have it render across all environments and devices. We hope you'll take full advantage of the performance, security benefits and the increased ROI by choosing to build & serve AMPHTML ads in your next campaign.
>> Read More
Help influence and understand how your products appear on Google
(Mon, 07 Jan 2019)
Shoppers turn to Google to find products that are just right for them. And you rely on
Google Manufacturer Center
to ensure your products are represented well. In fact, more than 5,000 brands use Manufacturer Center to improve their presence on Google. To kick off the new year, we're making those interactions even better by introducing new ways to show high-quality and inspirational content to shoppers, and providing robust analytics to help you better understand how customers are interacting with your brands and products across all of Google. A new place to inspire shoppers and promote your products Shoppers are constantly looking for inspiration and assistance on what to buy. In a Google study of ~1,600 people, we found that 56 percent of smartphone users have purchased from an unexpected brand when they considered the brand helpful. To help you assist your customers and highlight your products' unique features, we're launching a new section on Shopping product detail pages, featuring content directly from you.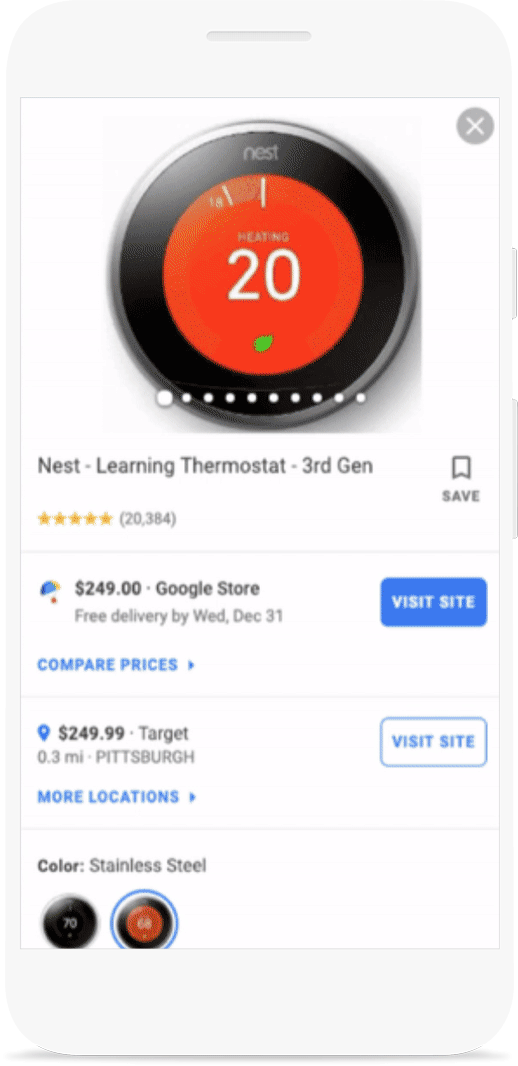 You'll be able to: Populate your product pages on the Google Shopping property with inspirational and high quality content. Highlight the product features and capabilities that you know your shoppers care about the most. Build brand equity directly with shoppers on Google (Google remains the first place shoppers go to get helpful recommendations and suggestions on what to buy according to an online survey of ~2,700 recent online shoppers). As our first launch partner,
Syndigo
(formerly Webcollage) is providing this content for
eligible manufacturers' products
. Across the web, Syndigo has seen 10 percent more conversions for their clients when more visual content is shown at retailers based on an A/B test. In the coming months, all manufacturers who upload content like inspirational imagery and high quality logos into Manufacturer Center will also be able to provide these more visual experiences to help shoppers. If you're a data partner who wants to bring this experience on Google to your clients, let us know
here
. Make better business decisions with new insightful analytics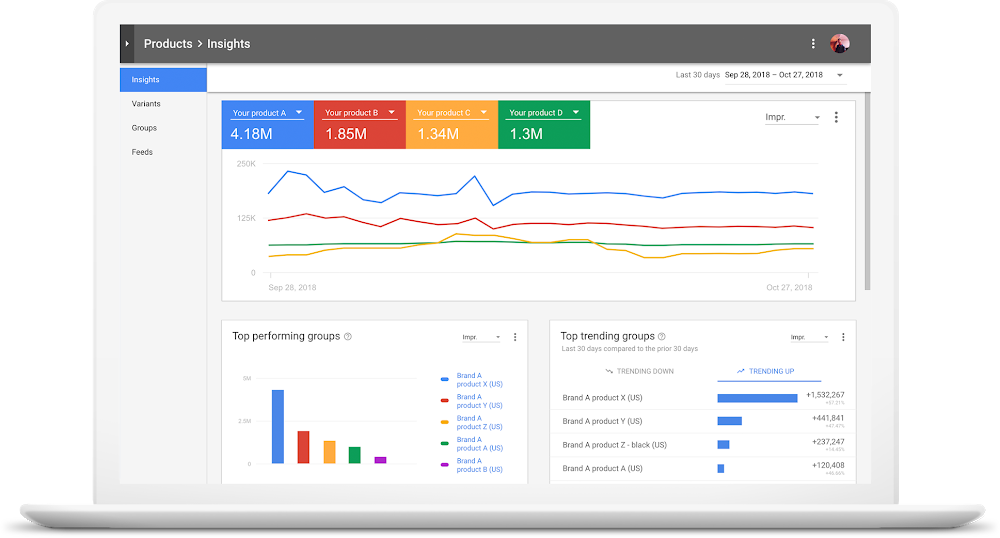 To help you make better business decisions, we've also launched new and improved analytics in Manufacturer Center that will provide you a better understanding of how ads for your products are performing on Google. You will learn how ads for your products appear, so you can make better pricing, digital ad investment, and media decisions. You'll find: Performance trends like top performing product groups and significant changes in performance or price. Insights on product variants like top search terms for your products and average price trends. Product group stats like which competitor's brands and products appear most often with yours. These new analytics are available to all brands in Manufacturer Center that meet eligibility
requirements
. Manufacturer Center availability expands In 2018, we've expanded Manufacturer Center availability from seven countries to
24 countries
. Now, if you sell products in these countries, you can better represent your products to shoppers, improve the performance of Shopping ads featuring your products, and access these new, more helpful analytics. We hope these updates will help shoppers find the products perfect for them and help you better connect with your customers. To learn more about Manufacturer Center, to read success stories, and to sign up, visit our
website
.
>> Read More
Disney and Google expand strategic relationship
(Tue, 27 Nov 2018)
People today exercise greater control over what they view and when—and on which screens—they view it. They watch sitcoms in taxis and on trains, and stream news and documentaries at the gym. All of which contribute to a striking new reality: TV is no longer a stationary box anchored to a corner in your living room. People also expect the same content they love in the living room on every screen, which can be the difference between a loyal fanbase and a lost audience. Advertisers want to deliver quality ad experiences that are relevant, seamless and measurable across screens, inspiring media companies to reimagine the commercial break.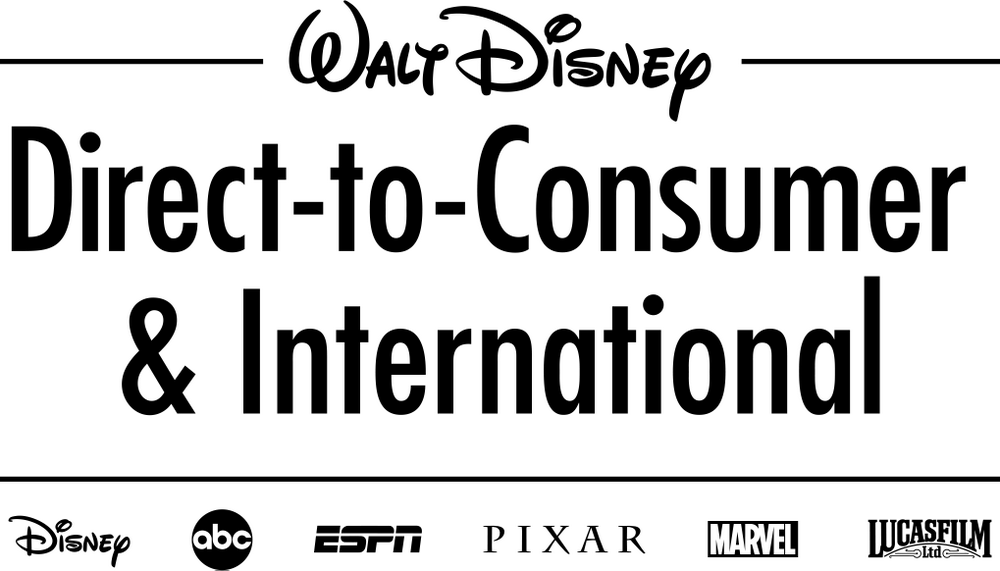 That's why we're excited to announce today a new global strategic relationship with The Walt Disney Company. Disney and Google share a passion for bringing quality content and information to everyone, everywhere. With this new relationship, Disney will bring its entire global digital video and display business onto Google Ad Manager, which will serve as its core ad technology platform.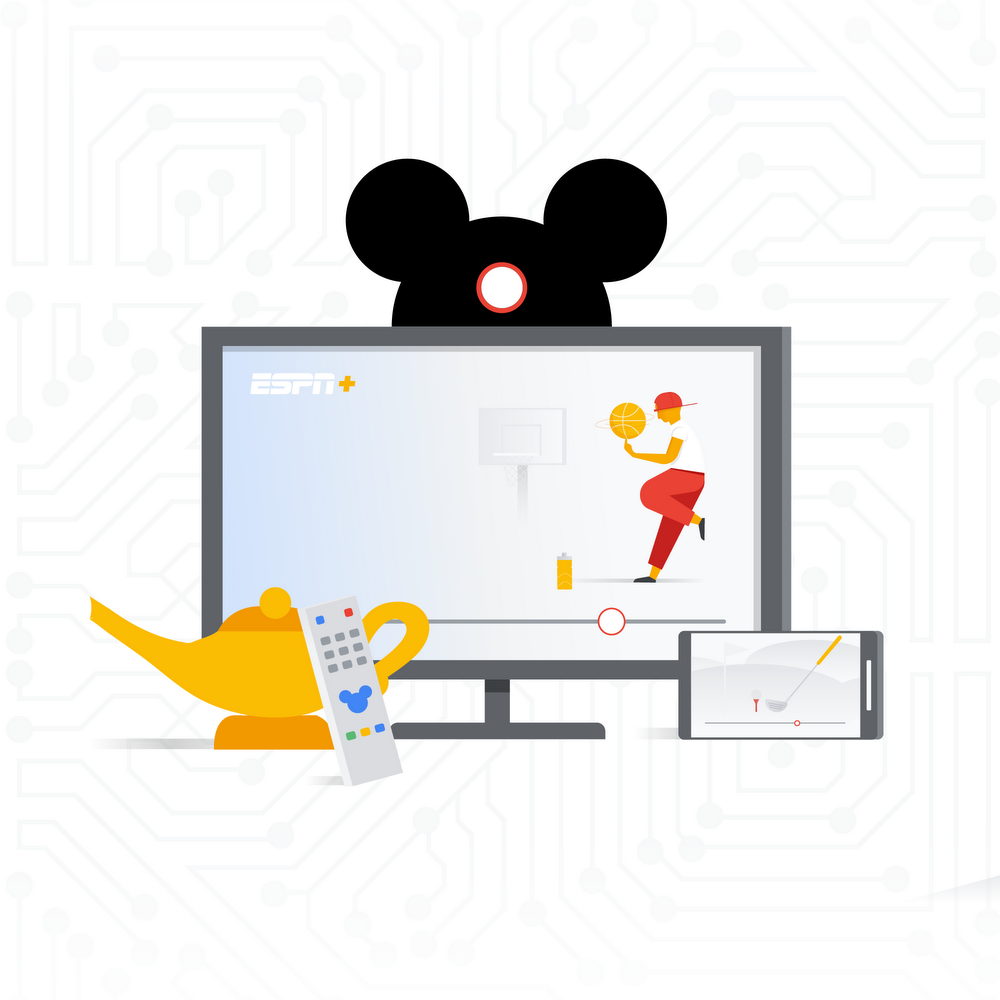 That means that Google will now power advertising for Disney's unmatched collection of brands and properties—including Disney, ABC, ESPN, Marvel, Pixar and Star Wars—across multiple channels, including live streaming and direct-to-consumer content offerings. Disney will be able to serve video ads effortlessly on the web, in mobile apps, streaming through connected TVs and for live events. Together, we plan to build an advanced video experience for Disney that will transcend devices, platforms, and living rooms to bring the magic of premium video content into people's hearts, minds, and screens—everywhere. 
Related Article New research on the convergence of TV and digital video How are TV executives preparing for the convergence of TV and digital? Download our report to find out. Read Article
>> Read More