Pardon this intrusion, this blog is here due to site owner's personal interest in the topic.  We have not monetized this website it is a hobby site.  :)
Create more effective ads for today's consumer
(Mon, 27 Aug 2018)
Consumers are more curious and more demanding than ever before. They expect to get things done faster–engaging with ads that are uniquely relevant to them. In fact, 91 percent of mobile users bought or plan to buy something after seeing an ad they described as relevant.1 That means it's critical for marketers to create a wider variety of ads that are
diverse
. By creating more diverse ads and utilizing Google's 
machine learning
, your ads will be more helpful, more personalized, and relevant to more people. This means your ads can show more often, reaching potential customers when they're looking for what you have to offer. We know this kind of optimization works: On average, advertisers that combine Google's machine learning with multiple creatives see up to 15 percent more clicks.2 Creating 
relevant ads
 at scale can be a challenge, and products like 
responsive search ads
, 
responsive display ads
, and 
Universal App campaigns
 can help. That's why we're introducing new insights to make it easy for you to create the ad experiences your customers expect. Get more out of your responsive search ads Responsive search ads combine your creativity with the power of Google's machine learning to help you deliver relevant, valuable ads. To make it easier for you to create more effective responsive search ads, you'll now be able to preview ad combinations as you build them. This shows you what your ads might look like, and you can even browse through them to double-check your work. You can also
view reporting
for headlines, descriptions, and top combinations to help you see what's showing up most often on the search results page.

New best practices for Search ad groups Apartments.com is a leading online resource for home and apartment rentals. Using responsive search ads, the brand was able to create ads that were more relevant to people at key moments in the rental process. As a result, Apartments.com saw a 10 percent lift in clicks. ForRent.com, another brand in the Apartments.com network of sites, saw a 16 percent lift in clicks with a similar strategy. Measure the strength of your ads Innovations like responsive search ads can help you create relevant, personalized ads at scale. However, it can be a challenge to know when these ads have the right amount of information. That's why we're introducing ad strength. You'll see ad strength both when you write a responsive search ad and as a column in Google Ads. Ranging from "Poor" to "Excellent," this metric measures the relevance, quantity, and diversity of your ad copy. Combined with actionable feedback, ad strength makes it easy for you to improve the effectiveness of your ads.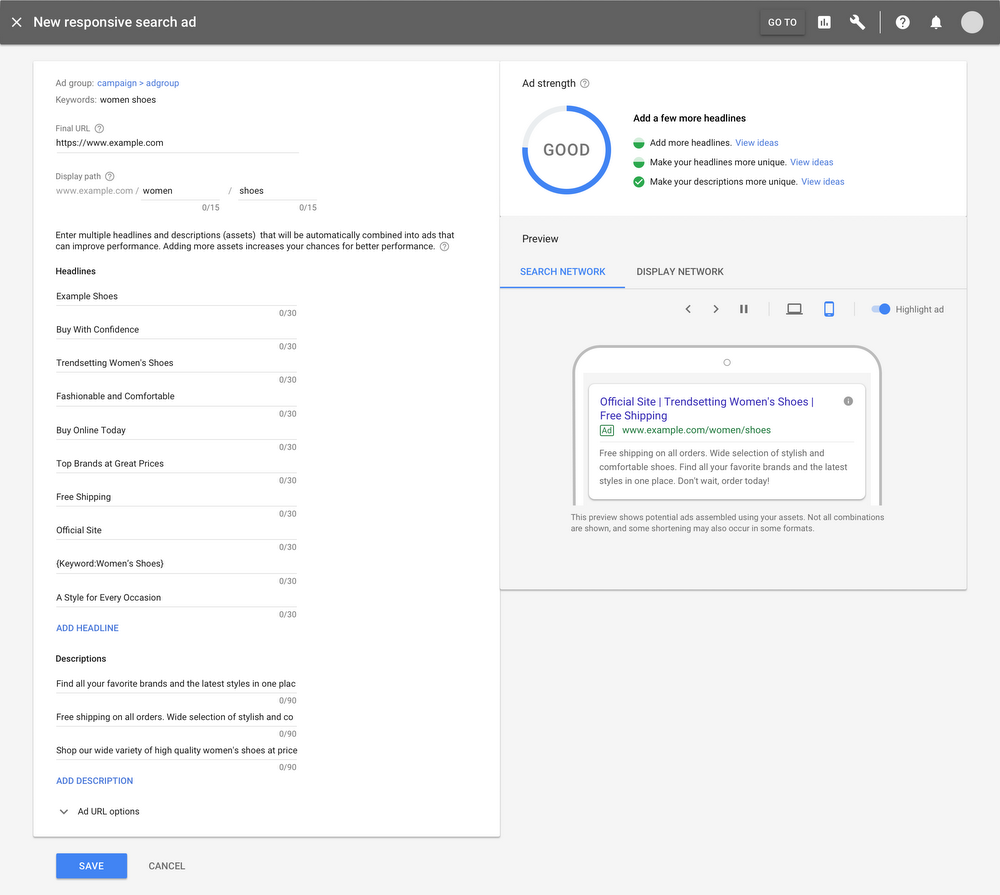 Use ad strength to create more effective responsive search ads Ad strength will be available as a column starting in early September, and in the responsive search ad creation interface over the next several weeks. Support for responsive display ads will follow in the coming months. To get started with ad strength, we recommend providing as many distinct headlines, descriptions, and other assets as possible. This will help Google's machine learning generate a larger number of relevant, effective ad combinations. For a responsive search ad, provide as many headlines and descriptions as makes sense for your business. If you're having trouble getting started, we recommend focusing on creating at least five headlines. For a responsive display ad, provide up to 15 images and five logos, headlines, and descriptions per ad. Promote your app at scale App marketers are also making the shift to more diverse creative. With Universal App campaigns, Google's machine learning automatically combines your creative assets with content from your app store page to create personalized, relevant ads at scale. We recommend providing at least four to five text, video and image assets in varying lengths and sizes. If you're looking for more guidance, we have
an online course
to help you design and optimize your creative for a Universal App campaign. If you want to learn more about promoting your mobile app in Google Ads, you can view the other courses at 
g.co/learnappads
. 1. Google / Purchased, April 2017 2. Google internal data
>> Read More
Google Hotel Ads joins Google Ads
(Wed, 11 Jul 2018)
In 2010, we started showing hotel information in a more useful way with
sponsored hotel prices in Google Maps
. Since then, we've expanded Google Hotel ads to more than 150 countries on Google.com and Google Maps, helping travelers
browse hotels on mobile devices
and spot
hotel deals
. Our Hotel ad partners are happy with the volume of leads and bookings - in the first six months of 2018, the number of leads to partners grew 65 percent year over year. As Hotel ads has grown, we've heard feedback that some partners have a hard time managing their Hotel ads in a separate platform from their other Google Ads, like their search and display campaigns. To help partners efficiently scale, Hotel ads will become a part of the Google Ads platform with a new campaign type. Hotel campaigns in Google Ads will launch later this year, enabling you to manage your Hotel campaigns alongside your other campaigns in a single platform. We're also launching a new Hotel Center to simplify the management of your hotel price feeds. Google Hotel Ads join Google Ads Yesterday at
Google Marketing Live
, we introduced a new campaign type in Google Ads called Hotel campaigns. This campaign type will simplify campaign management and optimization. Specifically, the benefits include: Hotel groups to organize hotels by important attributes like brand and class Robust bidding controls that allow marketers to optimize for bidding dimensions unique to hotels like a traveler's length of stay or check-in day and audience bidding Smart bidding powered by machine learning to maximize bookings at your ROI goal Rich reporting and familiar responsive interface available with the newly redesigned Google Ads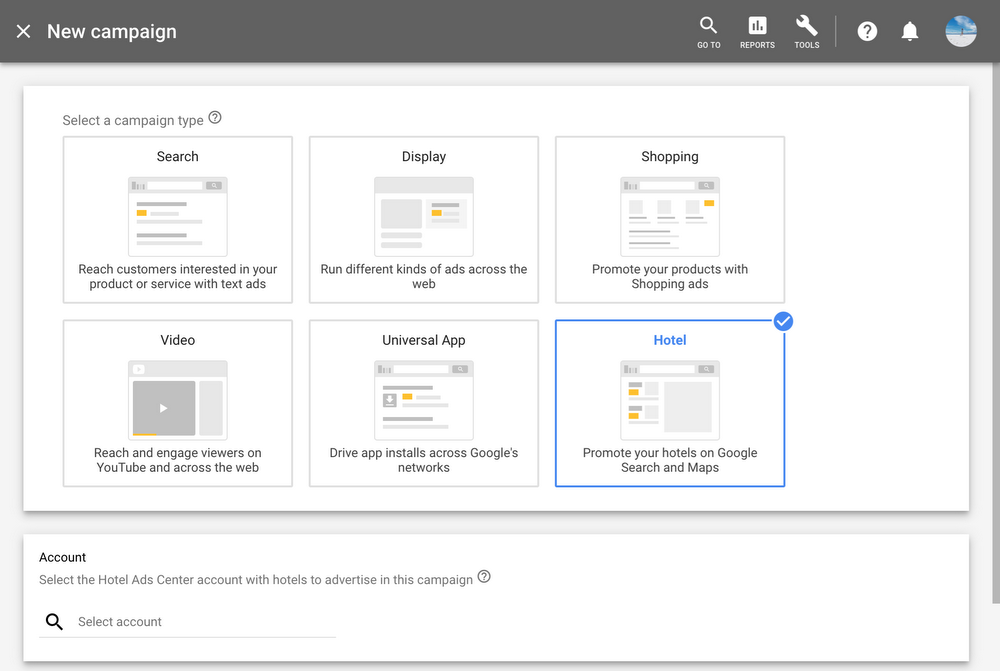 We're testing this new Hotel campaign type with a few initial partners, and they are excited by the results.

"As the largest travel agent in Latin America we're focused on getting interested online leads to our site and Google Hotel ads have been a great channel for us thus far. As an alpha tester, we're excited by the promise of Hotel ads in Google Ads. We think it'll help us save time, scale our efforts and started to move more of our hotel inventory to the new Hotel campaign type." - Andrés Patetta, Chief Marketing Officer, Despegar.com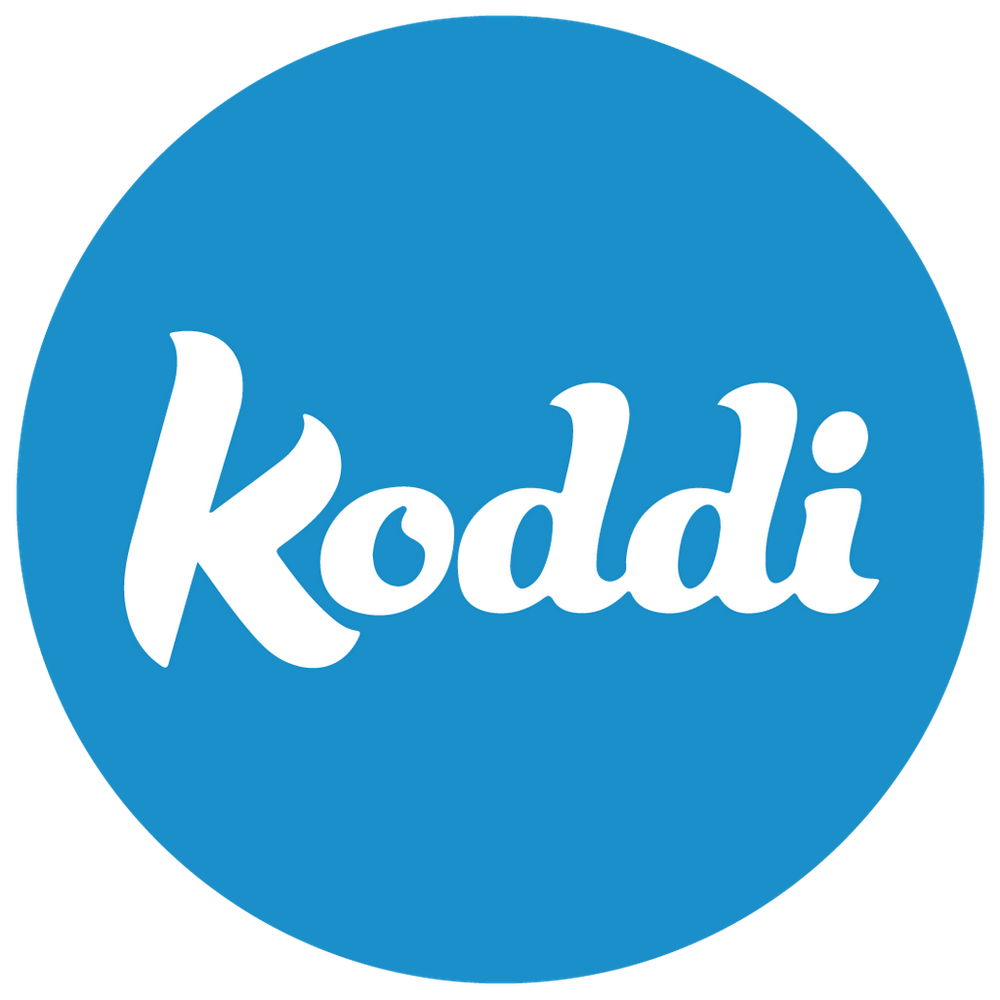 "At Koddi, we have over 400,000 hotels in our global portfolio including large global advertisers. We're always looking for ways to drive more bookings, and Google Hotel ads are a central part of many of our partner's distribution strategy. We've seen Google Hotel ads traffic steadily grow, with our partners experiencing an average 31% increase every year. The upcoming Ads integration will uncover new insights that will allow us to scale our clients' reach and bookings further." - Deep Kohli, Senior Director of Client Services, Koddi. New Hotel Center for hotel price feed management Hotel price feed management can be complex and time-consuming. With Hotel campaign management moving into Google Ads, we're also redesigning how partners optimize and manage their hotel price feeds in a new Hotel Center. This Hotel Center will: Simplify feed troubleshooting with faster and more intuitive in-product guidance Quickly optimize your feed's health with actionable opportunities and one-click fixes Use a central hub to power other price feed-based hotel features in the future, like dynamic remarketing creatives. The existing Hotel Ads Center will be replaced with the new Hotel Center in phases. We're starting with the basics first, focusing on a better way to submit your hotel inventory and describe your hotel properties. Learn more Hotel Ads will launch as an open beta available to advertisers later this year. If you'd like to stay up to date on the Google Ads integration and Hotel Center launch, beta test Hotel ads in Google Ads or learn more about Hotel ads in general, please fill out this
interest form
. Whether you're a hotel owner trying to fill your rooms or an online travel agent wanting to drive more leads, we hope Hotel ads in Google Ads and the new Hotel Center will make it easier than ever to connect with travelers at scale.
>> Read More
Speed matters when providing assistive experiences
(Wed, 11 Jul 2018)
Getting better results from your online ads today requires more than just the right keywords or the right bids. You need to deliver the helpful and frictionless experiences consumers expect from brands. Yesterday at
Google Marketing Live
, we shared
ad innovations
powered by Google's machine learning that help you do just that. However, even the best ads struggle to deliver results if they're sending people to slow landing pages, especially on mobile. In retail, we see that for every one second delay in page load time, conversions can fall by up to 20 percent.1 That's why we're making it easier to diagnose and improve your mobile site speed. See if your mobile pages are slowing you down Consider this: more than half of all web traffic now happens on mobile. Yet the average mobile webpage takes 15 seconds to load.2 And for many brands this equates to missed opportunity, especially when more than half of visits are abandoned if a mobile page takes more than three seconds to load.3 So where does your business land in all of this? To help you understand how landing page speed affects your ad performance, we introduced the new mobile speed score. Evaluated on a 10-point scale, 1 being very slow and 10 being extremely fast, the
mobile speed score
lets you quickly see which pages are providing a fast mobile experience and which ones may require your attention.

See your mobile speed score on the
Landing Pages page
in Google Ads Mobile speed scores are based on a number of factors, including the relationship between page speed and potential conversion rate. It starts rolling out to advertisers globally today. Improve your mobile experience with AMP Now that you know what's slowing you down, how do you speed up?
Accelerated Mobile Pages (AMP)
provide a faster, smoother, and more engaging mobile experience. In fact, AMP pages typically load 85 percent faster than standard mobile pages.4 They're so fast, they appear to load instantly. Once you've sped up your site, you can
direct your search ad clicks to those AMP pages
and create the super-fast and delightful mobile experiences people expect. Brands like
Greenweez
, a leading French organic retailer, are using AMP to improve mobile site landing page speed and performance. Greenweez was able to increase its mobile page speed by 5X, resulting in an 80 percent increase in mobile conversions! Build your case for a faster mobile site When someone has a negative experience on mobile, they're much less likely to purchase from you in the future. So if you want to stay ahead of the curve, you need to prioritize speed within your organization. To help you do that, we've built two free tools: the
Speed Scorecard
, which lets you see how your mobile site speed stacks up against your peers, and the
Impact Calculator
, which lets you estimate the revenue you're potentially leaving on the table by having a slow mobile site. You can learn more about these tools and best practices for speeding up your mobile site on
Think with Google
. 1. Google/SOASTA, "The State of Online Retail Performance," April 2017 2. Google Research, Webpagetest.org, sampled 11M global mWeb domains loaded using a globally representative 4G connection, Jan. 2018. 3. Google Data, Aggregated, anonymized Google Analytics data from a sample of mWeb sites opted into sharing benchmark data, n=3.7K, Global, March 2016 4. Google Data, Global, April 2017
>> Read More
Driving results with video at every stage of the customer journey
(Wed, 11 Jul 2018)
People increasingly visit YouTube to learn new things, in addition to entertaining themselves and connecting with others. In many ways, YouTube has become as much an information destination as an entertainment hub. And that quest for information certainly extends to brands, products and services. So what does that mean for marketers? It means video has a role to play in every stage of your consumer's journey. And in order for you to be effective during each and every interaction, you need options. This week at
Google Marketing Live
, we shared the work we're doing on new ad formats and bidding strategies for YouTube that are designed to align to your campaign objectives—whether you want to build awareness for your brand, shift perceptions or drive a specific action. For brands with awareness or reach goals, we built
TrueView for reach
. It brings our primary in-stream format together with the simplicity of CPM buying. In an initial TrueView for reach test, used car retailer DriveTime drove 2,400 dealership visits at a CPM 40 percent below what they were paying for local TV, enabling them to reach 66 percent more people at the same budget. Beyond reach, many brands rely on YouTube's attentive audience to shift perception—be it consideration or purchase intent. To help you accomplish and measure this, we're launching Maximize lift. This new bidding strategy uses
Google's machine learning
and continuous brand lift measurement to help you efficiently reach people who are more likely to consider your brand after exposure to an ad. COVERGIRL recently used Maximize lift bidding with TrueView in-stream ads to influence consideration for their Lashblast mascara and drove an estimated 2x return on ad spend. Increasingly, video is also leading people to take action. In fact, globally, conversions generated by YouTube ads are up 150 percent year over year.1 Using
TrueView for action
, you can drive any action on your website that's important to your business, like booking a trip, scheduling a test drive or requesting more information. Later this year, we'll introduce a new flavor of TrueView for action designed to help you generate high quality leads directly from your video ads. This new form feature enables people to submit their email address or phone number directly from your video ad, making it even easier for them to sign up for your service or learn more about your business. Additionally, you'll soon be able to choose between
Target CPA bidding
and
Maximize conversions bidding
for TrueView for action campaigns, giving you more ways to drive even better results.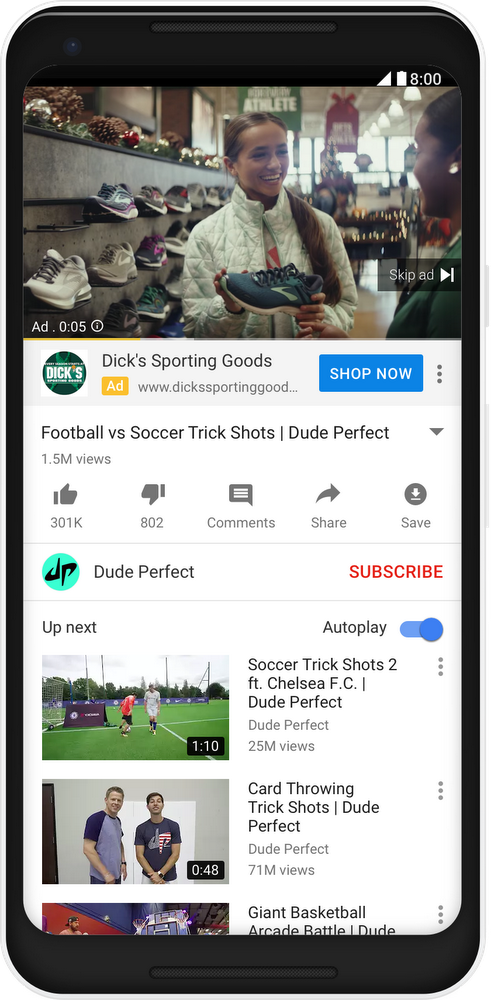 While effective on their own, these new ad options for YouTube truly shine when used in concert. That's what DICK'S Sporting Goods did during last year's holiday season. To build awareness and reach a broad audience with an
inspirational message
showing the brand's commitment to youth sports, the retailer used TrueView for reach. They built on this momentum with standard in-stream, TrueView in-stream and six-second bumper ads to deliver promotional messaging to in-market audiences. Then, they followed up with TrueView for action ads to drive people to their website to buy. This strategy moved their customers seamlessly through the full purchase journey, achieving a return on ad spend of 10 to 1. DICK'S Sporting Goods demonstrated one approach to a full-funnel YouTube strategy, but the possibilities are vast. We're excited to see how you use YouTube to deliver results at every stage of your customer's journey and we'll continue to build solutions that help you do so. 1  Google Internal Data, Global, 6/1/16 - 5/1/17 vs. 6/1/17 - 5/1/18
>> Read More
Putting machine learning into the hands of every advertiser
(Tue, 10 Jul 2018)
The ways people get things done are constantly changing, from finding the closest coffee shop to organizing family photos.
Earlier this year
, we explored how machine learning is being used to improve our consumer products and help people get stuff done. In just one hour, we'll share how we're helping marketers unlock more opportunities for their businesses with our largest deployment of machine learning in ads. We'll explore how this technology works in our products and
why it's key
to delivering the helpful and frictionless experiences consumers expect from brands.
Join us live
 today at 9am PT (12pm ET). Deliver more relevance with responsive search ads Consumers today are more curious, more demanding, and they expect to get things done faster because of mobile. As a result, they expect your ads to be helpful and personalized. Doing this isn't easy, especially at scale. That's why we're introducing responsive search ads.
Responsive search ads
combine your creativity with the power of Google's machine learning to help you deliver relevant, valuable ads. Simply provide up to 15 headlines and 4 description lines, and Google will do the rest. By testing different combinations, Google learns which ad creative performs best for any search query. So people searching for the same thing might see different ads based on context. We know this kind of optimization works: on average, advertisers who use Google's machine learning to test multiple creative see up to 15 percent more clicks.1 Responsive search ads will start rolling out to advertisers over the next several months. Maximize relevance and performance on YouTube People watch over 1 billion hours of video on YouTube every day. And increasingly, they're tuning in for inspiration and information on purchases large and small. For example, nearly 1 in 2 car buyers say they turn to YouTube for information before their purchase.2 And nearly 1 in 2 millennials go there for food preparation tips before deciding what ingredients to buy.3 That means it's critical your video ads show at the right moment to the right audience. Machine learning helps us turn that attention into results on YouTube. In the past, we've helped you optimize campaigns for views and impressions. Later this year, we're rolling out Maximize lift to help you reach people who are most likely to consider your brand after seeing a video ad. This new
Smart Bidding
strategy is also powered by machine learning. It automatically adjusts bids at auction time to maximize the impact your video ads have on brand perception throughout the consumer journey. Maximize lift is available now as a beta and will roll out to advertisers globally later this year. Drive more foot traffic with Local campaigns Whether they start their research on YouTube or Google, people still make the majority of their purchases in physical stores. In fact, mobile searches for "near me" have grown over 3X in the past two years,4 and almost 80 percent of shoppers will go in store when there's an item they want immediately.5 For many of you, that means driving foot traffic to your brick-and-mortar locations is critical—especially during key moments in the year, like in-store events or promotions. Today we're introducing Local campaigns: a new campaign type designed to drive
store visits
exclusively. Provide a few simple things—like your business locations and ad creative—and Google automatically optimizes your ads across properties to bring more customers into your store. Ads_Search.jpg Ads_Maps.jpg Ads_PlacePages.jpg Ads_Display.jpg Ads_YouTube.jpg Show your business locations across Google properties and networks Local campaigns will roll out to advertisers globally over the coming months. Get the most from your Shopping campaigns Earlier this year, we rolled out a
new Shopping campaign type
that optimizes performance based on your goals. These Smart Shopping campaigns help you hit your revenue goals without the need to manually manage and bid to individual products. In the coming months, we're improving them to optimize across multiple business goals. Beyond maximize conversion value, you'll also be able to select store visits or new customers as goals. Machine learning factors in the likelihood that a click will result in any of these outcomes and helps adjust bids accordingly. Machine learning is also used to optimize where your Shopping ads show—on Google.com, Image Search, YouTube and millions of sites and apps across the web—and which products are featured. It takes into account a wide range of signals, like seasonal demand and pricing. Brands like
GittiGidiyor
, an eBay company, are using Smart Shopping campaigns to simplify how they manage their ads and deliver better results. GittiGidiyor was able to increase return on ad spend by 28 percent and drive 4 percent more sales, while saving time managing campaigns. We're also adding support for leading e-commerce platforms to help simplify campaign management. In the coming weeks, you'll be able to set up and manage Smart Shopping campaigns right from Shopify, in addition to Google Ads. Tune in to see more! This is an important moment for marketers and we're excited to be on this journey with you.
Tune in
at 9am PT (12pm ET) today to see it all unfold at Google Marketing Live. For the latest news, follow the new
Google Ads blog
. And check out
g.co/adsannouncements
for more information about product updates and announcements. 1. Internal Google data 2. Google / Kantar TNS, Auto CB Gearshift Study, US, 2017. n=312 new car buyers who watched online video 3. Google / Ipsos, US, November 2017 4. Internal Google data, U.S., July–Dec. 2015 vs. July–Dec. 2017 5. Google/Ipsos, U.S., "Shopping Tracker," Online survey, n=3,613 online Americans 13+ who shopped in the past two days, Oct.–Dec. 2017
>> Read More
Watch the Google Marketing Live keynote
(Tue, 10 Jul 2018)
Get ready for the ads, analytics, and platforms innovations live stream.
Watch the recording
 to learn more about Google's latest announcements. Join the conversation at #GoogleMarketingLive.
>> Read More
New tools for creative storytelling on YouTube
(Wed, 20 Jun 2018)
Every year at the Cannes Lions festival, the world gathers to celebrate creativity in marketing, design, tech and entertainment. The festival is a great source of inspiration, with thought-provoking programming that awakens the creative senses of people and brands alike. YouTube's creative canvas represents an exciting opportunity for brands and agencies to reimagine their approach to video. To help, we're creating a new set of tools. Today, we're introducing YouTube's creative suite, a collection of resources to help you tell great stories on YouTube, test creative variations and measure creative impact. 
Kellogg's
 is already tapping into tools like YouTube Director Mix to harness the power of personalization, while 
20th Century Fox
 is pairing experimentation with Video Ad Sequencing to give viewers story-driven introductions to new films. Let's meet the suite. Video Experiments Testing video creative can be expensive, time-consuming and not always indicative of real-world performance. That's why we're launching Video experiments, a head-to-head testing tool in AdWords that works with brand lift measurement and allows you to measure the impact of creative on key metrics like awareness, consideration, purchase intent and more. Cleanly segmented experiments run on YouTube at no extra cost beyond media investment and deliver results in as few as three days. Video experiments, launching in beta later this month, convert non-working media spend typically used for focus groups in simulated ad environments into working media spend in real ad environments. On YouTube, people only watch what they want, making it an ideal testing ground for actionable results you can trust. Video Creative Analytics Generating reports on creative performance can be a repetitive and manual process for AdWords users, so we're launching new features to make the process of uncovering quantitative creative insights easier. Our initial launch brings audience segmentation to retention reports so you can better understand how your creative captures the attention of different groups. Later this year, we'll introduce the ability to annotate key moments within your video ― like logos or product shots ― and show you what percent of your audience saw these key moments. In doing so, you can keep track of how different creative elements influence campaign performance and use that to develop ideas for your next creative brief or video experiment. Director Mix and Video Ad Sequencing Telling relevant stories that command attention is challenging, especially at scale. That's why we're committed to building tools that enable great storytelling on YouTube. YouTube Director Mix, currently in alpha, lets you create many versions of a base video and set elements to be swappable ― customizing text, image, sound and video elements to assemble the right video for the right audience and context. Video Ad Sequencing, also in alpha, lets you tell your brand story over a series of ads set in a specific order, or showcase your product message across multiple pieces of content. By showing your story in sequence, you have the potential to drive deeper engagement, awareness or consideration. We're excited to see how you use these new tools.
>> Read More
New innovations remove friction from discovering products in store and online
(Tue, 12 Jun 2018)
Driven by rapid changes in technology and mobile, consumer expectations continue to rise at an unrelenting pace. There are brand new ways for people to find and engage with businesses, and it's becoming critical for marketers to remove friction at every step of the consumer journey. This morning at 
Search Marketing Expo Advanced
, we made three announcements for marketers and retailers including: 1. New innovations to highlight your physical locations Almost 80% of shoppers will 
go in store
 when they have an item they want immediately.1 To help capture this demand, we're expanding 
affiliate location extensions
 to video campaigns on YouTube – on top of Search and Display campaigns. This helps brand manufacturers drive and 
measure
 foot traffic to nearby retail stores and auto dealers that sell their products. We've seen that adding affiliate location extensions to TrueView in-stream and bumper ads can increase clickthrough rate by over 15%.2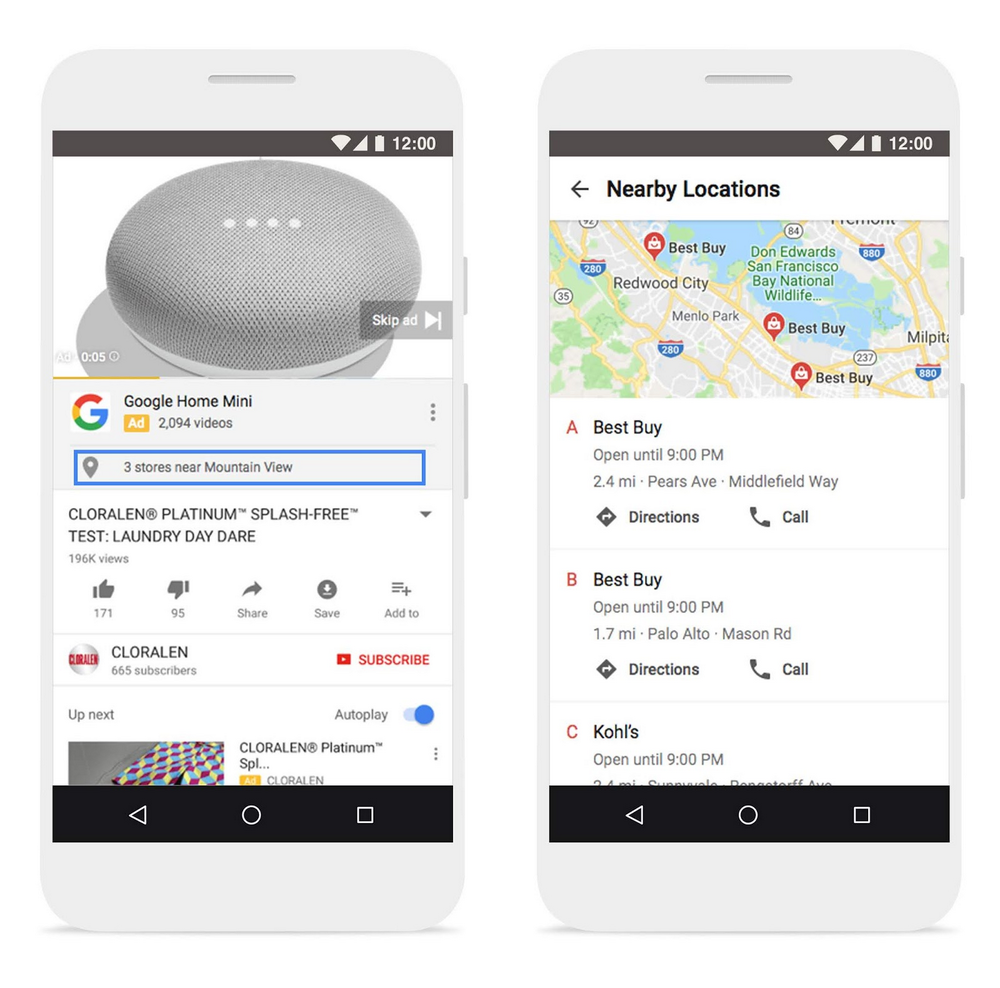 New local catalog ads on Display will also roll out to all advertisers by the end of the month to help shoppers discover what you sell, then visit your store. One-third of shoppers say finding inspiration is something they enjoy most about shopping.3 This interactive experience highlights a hero image and your inventory in an easy-to-scroll, mobile layout that helps shoppers explore your products. It also features in-store availability and detailed pricing information. This new format can complement your traditional print campaigns – including catalogs, flyers, and circulars – with the added audience and measurement benefits of digital ads.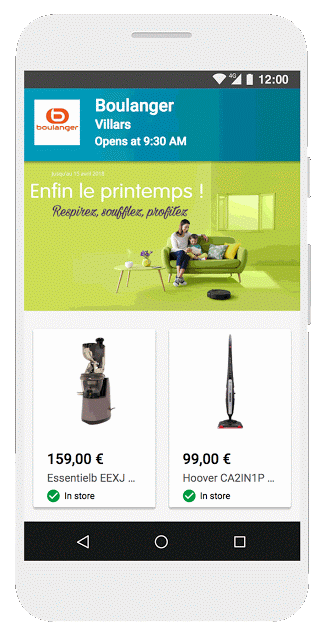 Boulanger is one of the largest electronics and appliances retailers in France. The retail brand had a special promotional event for Spring 2018, so it turned to local catalog ads to boost its sales. Boulanger showcased a cheerful lifestyle image, a message welcoming the season and products carefully curated for local in-store promotion. With help from both click-based and impression-based 
store visits
* (launched in March), the campaign drove over 20K visits to its stores, delivering a return of 42 times its investment on ad spend. *
Store visits
 are estimates based on aggregated, anonymized data from a sample set of users who have turned on 
Location History
. Onboarding to both local catalog ads and 
local inventory ads
 is now much easier for retailers of all sizes with the 
new local feed partnership program
. The new program allows point-of-sale or inventory data providers, like 
Cayan
, 
Pointy
, 
Linx
 and 
yReceipts
, to provide sales and inventory data to Google on behalf of merchants, so they don't have to create their own local product feeds. As an additional benefit, retailers can showcase their local inventory for free on the "See What's In Store" feature on the search knowledge panel.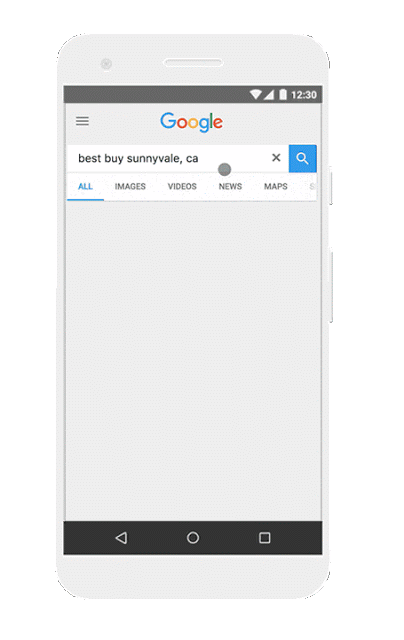 2. Competitive pricing insights to help deliver better sales results Beyond availability of products in store, we know that price is also a top consideration for consumers. New price benchmarks in AdWords reporting will be available soon to show Shopping advertisers how other retailers are pricing the same products. You can use these pricing insights to inform your bidding strategy when you have price-competitive products to promote, to influence pricing strategy with your merchandising teams, or to troubleshoot performance drops due to competitors' pricing. For example, let's say you find that you're selling a sweater for $40 while most retailers are selling the same sweater for $60. You may choose to bid up on this sweater because your product is more price-competitive in the current market and will appeal to more potential customers.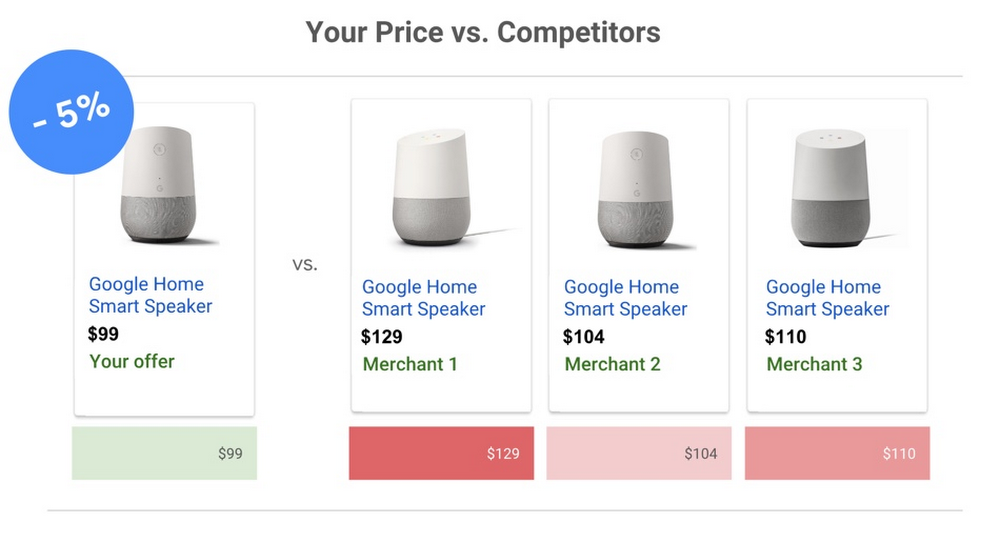 3. Updates for our Shopping Actions program Consumers continue to be open to 
new ways
 of discovering and buying products. Today at SMX Advanced, we shared an update on Shopping Actions, the 
program we launched
in March to give consumers an easy way to complete the purchase from retailers, while on Google platforms like Search, the Assistant or by voice. Since its launch, thousands of retailers have requested to join through our 
interest form
, and more than 70 retailers are live on the program today. Early testing indicates that participating retailers on average see an increase in total clicks and conversions at a lower overall cost per click and conversion, compared to running Shopping ads alone.4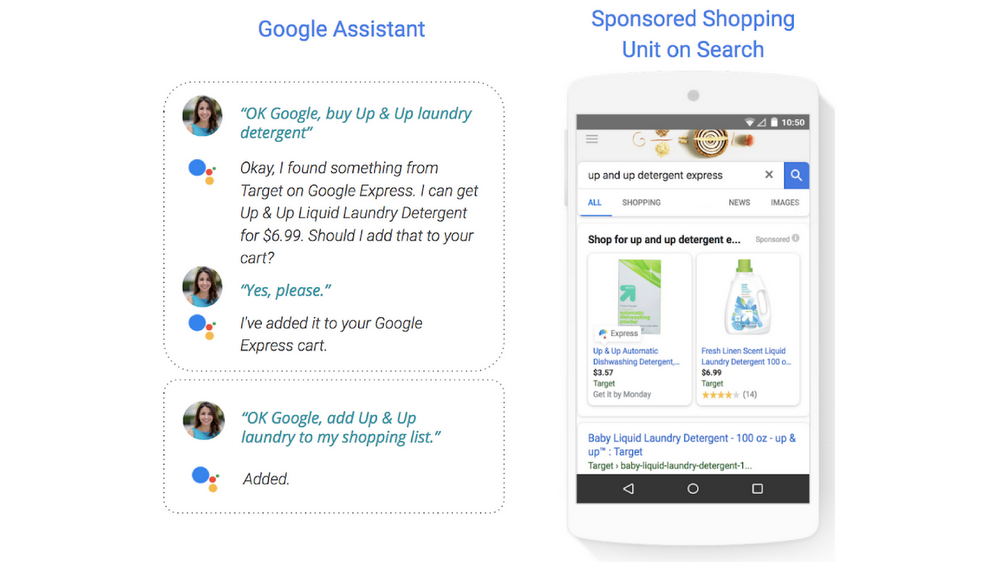 As always, SMX Advanced is an exciting event that brings leading marketers together. We hope you'll join us in our Learn with Google Classroom to connect and hear more about how these new products can help you grow your business. 1. Google/Ipsos, U.S., "Shopping Tracker," Online survey, n=3,613 online Americans 13+ who shopped in the past two days, Oct.–Dec. 2017 2. YouTube Internal Data, US, CA, UK, DE, AU, November 2017 3. Google/Ipsos, "Shopping Tracker", October-December 2017, Online survey, US, n=3,613 online Americans 13+ who shopped in the past two days 4. Google internal data, Feb - June 2018
>> Read More
Deliver more relevant experiences with Optimize and AdWords
(Wed, 30 May 2018)
Consumers search for and research products in more ways than ever before across devices, on websites, and product review blogs. It's essential to consider the entire customer journey and keep people engaged once they reach your business. That's why we
introduced an integration
between Optimize and AdWords to make it easy for marketers to test and create personalized landing pages. Suppose you want to improve your chocolate shop's sales for the keyword "chocolate gifts." You might use the Optimize visual editor to create two different options for the hero spot on your landing page: a photo of an assorted chocolate gift box versus a banner reading "Save 20% on gifts." And then you can use Optimize to target your experiment to only show to users who visit your site after searching for "chocolate gifts." How Spotify boosted conversions with Optimize and AdWords

Spotify, one of the world's leading audio streaming services, is just one example of a company that has successfully used the Optimize and AdWords integration to drive more conversions from their search campaigns. Spotify discovered that the most streamed content in Germany was actually audiobooks, not music. So they wanted to show German users that they have a wide selection of audiobooks, and also that the experience of listening to them is even better with a premium subscription.  Using the AdWords integration with Optimize 360 (the enterprise version of Optimize), Spotify ran an experiment that focused on users in Germany who had searched for "audiobooks" on Google and clicked through on their search ad. Half of these users were shown a custom landing page dedicated to audiobooks, while the other half were shown the standard page. The custom landing page increased Spotify's premium subscriptions by 24%.  "Before, it was a fairly slow process to get all these tests done. Now, with Optimize 360, we can have 20 or more tests running at the same time. It's important that we test a lot, so it doesn't matter if we fail as long as we keep on testing," said Joost de Schepper, Spotify's Head of Conversion Optimization. Watch Spotify's video case study to learn more.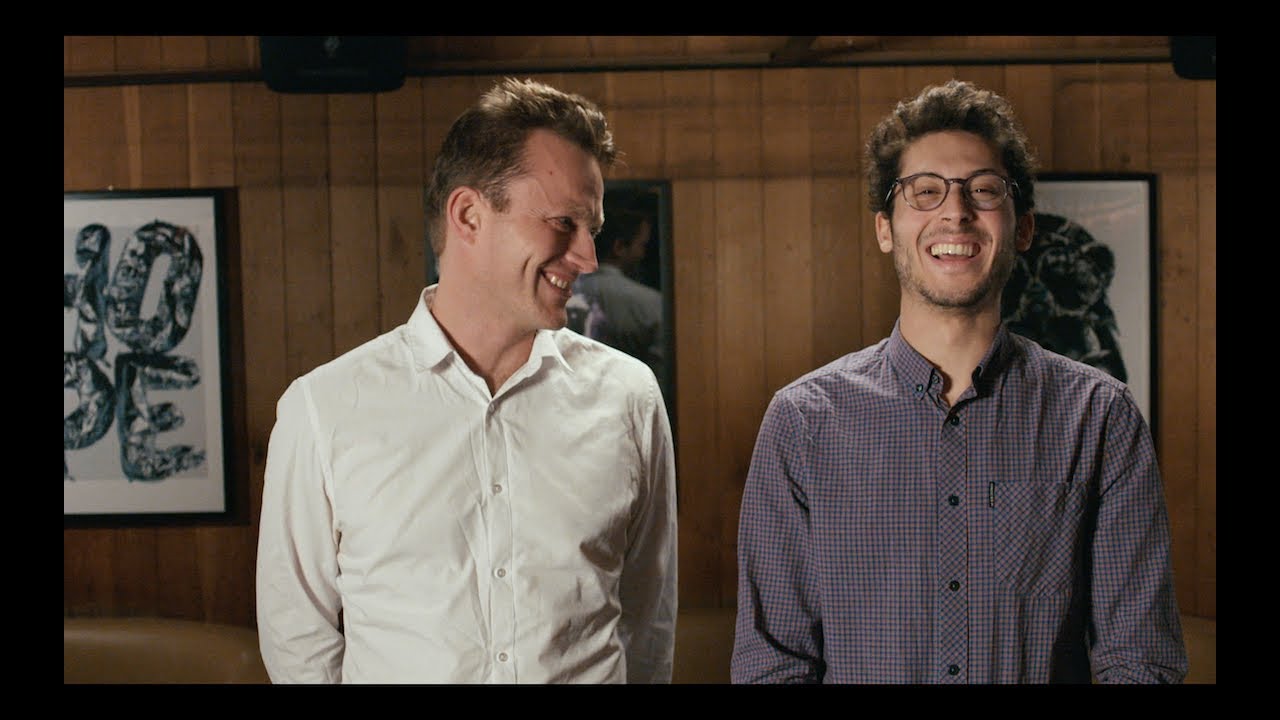 Driving your own results Today, we're announcing three new updates to make it easier for all marketers to realize the benefits that Spotify saw from easily testing and creating more relevant landing pages: 1. Connect Optimize with the new AdWords experience You can connect Optimize to AdWords in just a few steps.
Follow these instructions
to get started. Not using the new AdWords experience yet?
Make the switch
to gain access to more actionable insights and faster access to new features. 2. Link multiple AdWords accounts at once For advertisers that have many AdWords accounts under a manager account, individually linking each of those sub-accounts to Optimize can be time consuming. Now, you can link your manager account directly to Optimize. This will pull in all your AdWords accounts at once, allowing you to immediately connect data from separate campaigns, ad groups, and more. To get started,
switch to the new AdWords experience
, and then you'll see an option to link your manager account in your Linked accounts,
learn more
. 3. Gain more flexibility with your keywords You can now run a single experiment for multiple keywords, even if they're across different campaigns and ad groups. For example, test the same landing page for users that search for "chocolate chip cookies" in your "desserts" ad group and for users that search for "iced coffee" in your "beverages" ad group. With the Optimize and AdWords integration, driving results through A/B testing is fast and simple.
Sign-up for an Optimize account
at no charge and get started today. Happy Optimizing!
>> Read More
Faster, safer and better ad experiences for consumers
(Thu, 17 May 2018)
Consumers have high expectations for faster, safer and better digital experiences. This means it's more important than ever for brands to deliver on these expectations. At Google, we're building new innovations to help AdWords advertisers design the best web experiences for your customers. Speed: Improvements to click measurement Speed matters. In fact, a one-second delay in mobile page load can decrease conversions up to 20%.1 That's why we announced support for
Accelerated Mobile Pages (AMP) as landing pages in AdWords
and developed new tools like the
Mobile Speed Scorecard and the Impact Calculator.
With just a few inputs, this tool estimates the revenue impact that can result from improving the speed of your mobile website. Another way we're improving mobile site speed is parallel tracking (
blog
|
help center
) -- which was introduced earlier this year for advertisers using
click measurement
systems. How does this improve speed? After an ad click, web browsers will process click measurement requests in the background, helping people reach your site up to several seconds faster.2 This creates better user experiences, leading to more conversions and less budget spent on bounced clicks.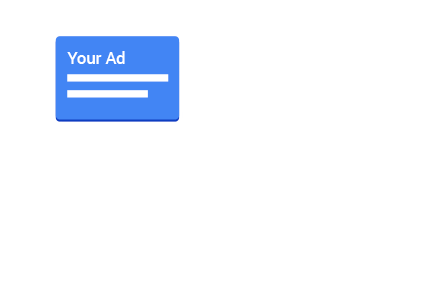 Starting October 30, 2018, parallel tracking will be required for all AdWords accounts. To get a jump start, you can now opt in your Search Network and Shopping campaigns. And even if you don't intend to turn it on today, you should start talking with your click measurement providers to ensure that they are ready for this change. Doing so, ensures there's no disruption to your click measurement system. If you've confirmed that your click measurement system is already compatible, you can opt in from your account-level "Settings" page in the "Tracking" section.
Learn more
Security: Focus on HTTPS You want your customers to have a safe and secure experience, every time they engage with your website. But too many brands still use unencrypted HTTP to send users to their landing pages. That's why Google
strongly advocates
that sites adopt
HTTPS encryption
, the industry standard for ensuring the security and integrity of data traveling between the browser and the website. Over the last year, Chrome has
marked
an increasingly large set of HTTP pages as "not secure." Beginning in July 2018 with the release of Chrome 68, Chrome will
mark all HTTP pages as "not secure."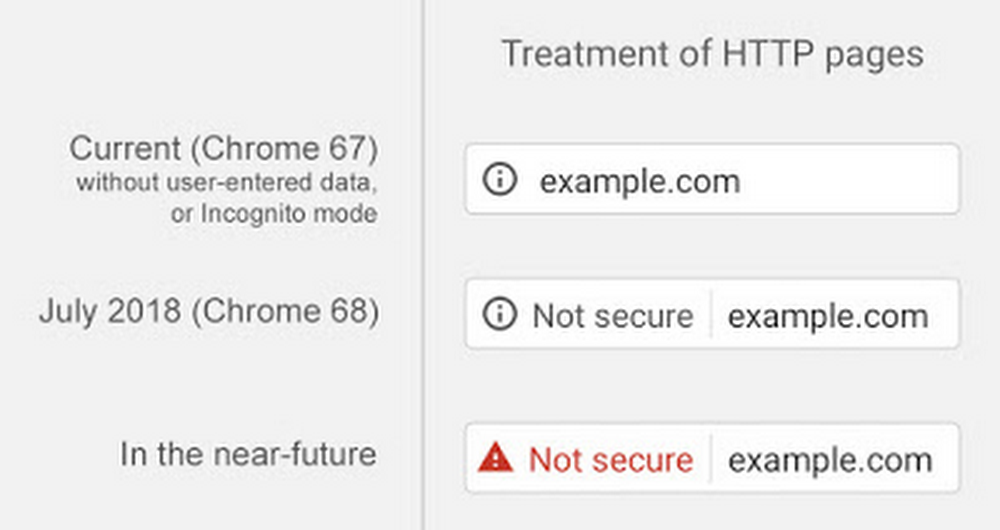 To make sure your users continue to have the best possible
landing page experience
, we've taken a few extra steps: Enabled HTTP Search ad clicks to
automatically be redirected
to HTTPS when we know that your site prefers HTTPS, which we will begin rolling out the week of June 11. Launched
Ad version history
to allow advertisers to update your landing page URLs from HTTP to HTTPS without resetting all of your performance statistics.  Will start to warn advertisers in AdWords when you're using less secure HTTP addresses for landing pages, in the next few weeks. We hope that these innovations will help people browse more quickly, confidently and securely. 1. "State of Online Retail Performance," Akamai, April 2011 2. Google Internal Data, Japan/India/US. Aggregated anonymized data from a sample of users that have clicked on an AdWords ad with URL tracking, August 2017
>> Read More