Pardon this intrusion, this blog is here due to site owner's personal interest in the topic.  We have not monetized this website it is a hobby site.  :)
Drive more holiday sales with promotions on Shopping Actions
(Tue, 20 Nov 2018)
People crave deals and promotions when shopping for their loved ones over the holidays. In fact, according to the National Retail Federation, one-third of shoppers said that all of their holiday weekend purchases were driven specifically by promotions (+11.4 percent YoY). Google's recent study with Ipsos shows that 57 percent of holiday shoppers say promotions/coupons are an important part of their holiday shopping. That's why we're excited to bring the Merchant Promotions program to
Shopping Actions
.
Merchant Promotions
 allows you to run online promotions for the products you sell on Google. When you add promotions to your Shopping Actions inventory, shoppers see the promotion (like 10% off) wherever your product shows up on Google Express. This can increase the appeal of your offer and encourage shoppers to buy. In fact, one of our pilot merchants saw an average of 9.4% increase in conversions (add to cart) and 9.5% increase in GMV per session when they added promotions to their offers.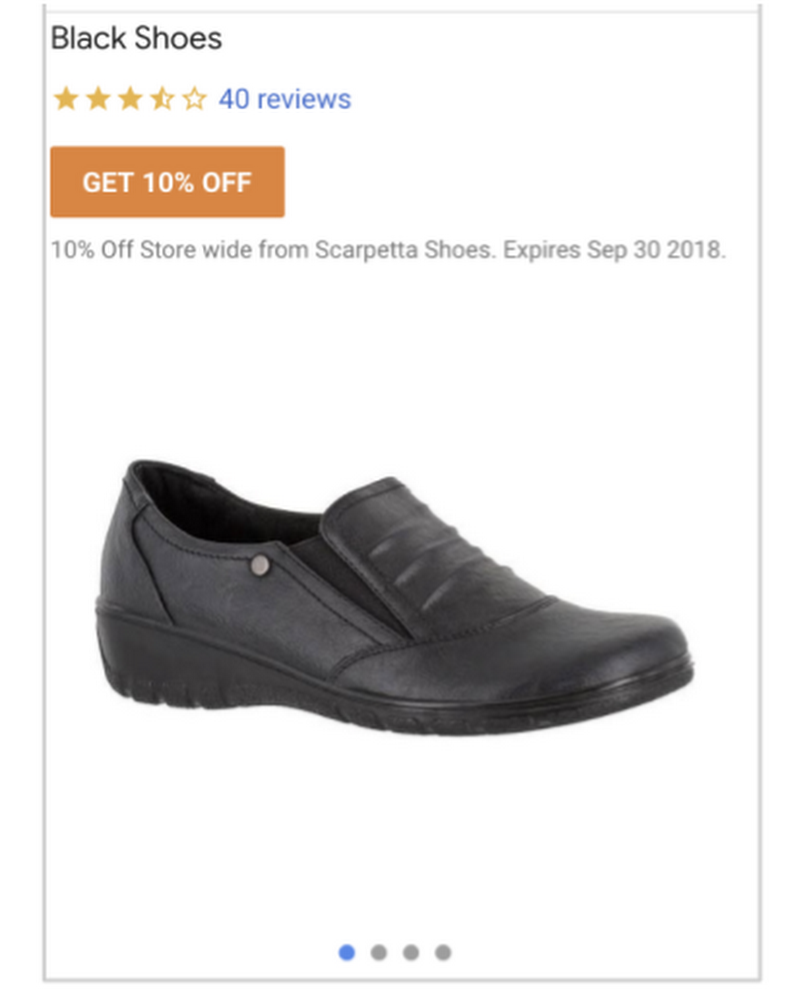 Get started First, join the promotions program by filling out
this form
. Once approved, there are two ways Shopping Actions merchants can link inventory to promotions: 1. Manually in Merchant Center by selecting Shopping Actions in the promotions tool in the promotions section of your account. If you're already running
eligible
 promotions for your Shopping Ads, it's as simple as checking the Shopping Actions button.

2. By creating a Promotions feed and setting the promotions destination attribute to "Shopping Actions". If you already run promotions for Shopping Ads, simply update the promotions destination attribute in the promotions feed to include Shopping Actions. Interested in joining or leaning more about Shopping Actions? Fill out our 
interest form
. We look forward to helping you reach more shoppers throughout the holidays and beyond!
>> Read More
Winter is coming: prepare for the holiday app-ortunity
(Thu, 08 Nov 2018)
It's the holiday season and that means two things: shiny new devices and lots of apps for getting things done! There will be more people taking valuable actions and more opportunities for you to be there when people are looking. According to Adjust, people who install apps in December complete twice as many in-app actions—like buying a gift or beating the first level of a game—within 24 hours.
Universal App campaigns
help you show your apps to these users wherever they are—Google.com, Google Play, YouTube, and over 3 million sites and apps in the Google Display Network. Today, we're sharing new insights and best practices to help you make the most of your app campaigns this holiday season. Get your timing right It's important to reach consumers when they're interested in discovering and engaging with new apps. But many marketers get their timing wrong, even during the most important time of the year. Take Black Friday as an example—Singular found that installs peak during the week of Thanksgiving. However, many app marketers jump the gun—marketing activities peak 10 days before Black Friday, dropping about 30% on the actual holiday weekend. So don't leave consumers out in the cold when they're knocking! Get your timing right this season and ensure your campaigns are live during peak periods. To learn more about how to succeed with Google App ads, check out our
best practices
. Capture consumers' attention People turn to apps for inspiration when they're in-market for gifts. In the U.S., AppsFlyer found that 12% more people spend money in apps in November and December compared to any other time of the year. For eBay, holiday campaigns are all about finding consumers that want to complete their shopping with ease. And they've found videos to be a great way to win the attention of shoppers who are researching and ready to take action: "The scalable video format allows us to seamlessly highlight eBay's value proposition of massive selection, fast and free shipping and best value," says Sadie Daryan, Global Head of Display and App Marketing at eBay.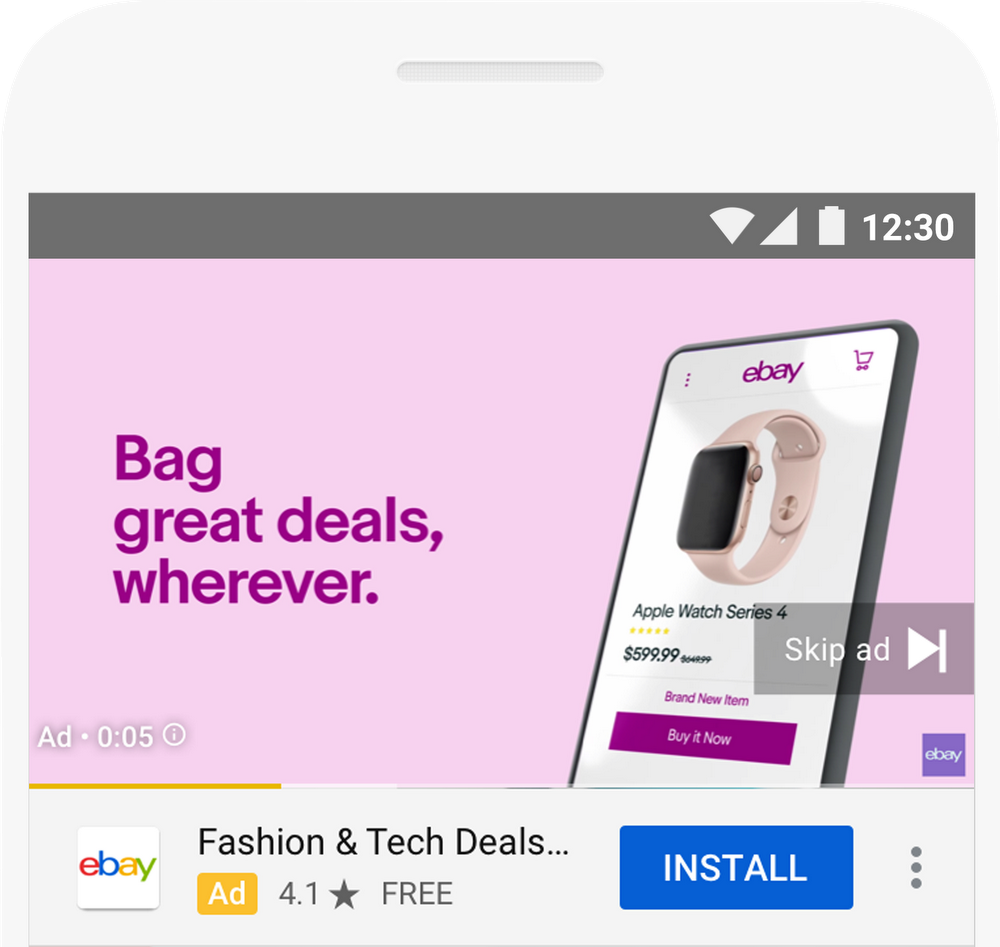 Holiday video ad for the eBay mobile app For eBay and other brands, video ads on Universal App campaigns have driven 14B in-app actions over the last 12 months.1 To improve performance, we recommend adding both portrait and landscape videos to help
increase your chances
of showing the most relevant ad. If you don't have the resources to create a holiday-specific video, we can help. YouTube's
AutoDirector feature
automatically generates personalized portrait and landscape videos for your campaign using existing assets like images, text and ratings from your app store listing. Reach out to your Google Sales team to learn more.
Example
of AutoDirector Seasonal template Prepare for success Data is your best friend as you prepare for your holiday push, helping you make informed decisions as to when to run campaigns and how to optimize your ad assets. To get a more complete picture of how your holiday ads are working, remember that ads can drive results even if users don't click on them. That's why we recently introduced
view-through conversion
reporting for App campaigns—to help you determine which
viewable
ad impressions were associated with conversions. These new insights helped InnoGames to better understand its valuable players. According to Felix Janzen, Director Performance Marketing at InnoGames, "View-through conversions help InnoGames and our analytics team analyze the full picture of the conversion funnel and attribute the right value to the actions of the user." After enabling view-through conversion reporting, InnoGames saw a 12% uplift in transactions and adjusted its bid strategy to reach even more players likely to make purchases. Make sure you have view-through conversion reporting enabled in Google Ads and with your
App Attribution Partner
. And check out our
webinar
to learn more. We hope these tips help you find valuable new app customers this season. Happy holidays! 1. Google Internal data 2018
>> Read More
Big or small, stay close to all the latest Google Ads changes
(Thu, 01 Nov 2018)
Thank you for following the Google Ads blog, the best place to find the latest news, insights and stories about Google Ads. As the product improves, we want to make sure you have an easy way to stay up to date on the latest changes, big and small.  The
new features & announcements
page in the Google Ads Help Center, covers all new features in Google Ads - from something as simple as a new column being added, to the launch of a new ad type such as Responsive Search Ads.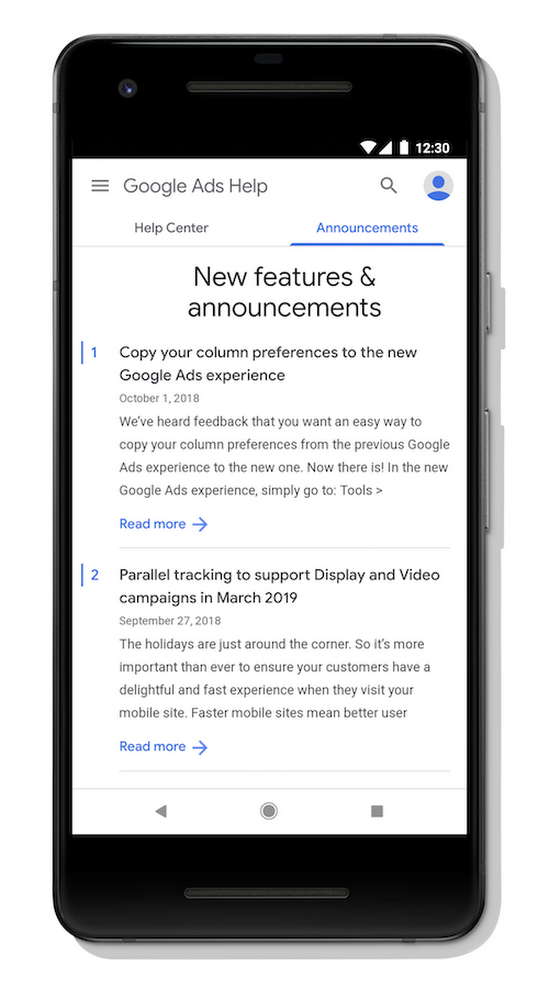 You can get there in three different ways: Go to
g.co/AdsAnnouncements
Click the "Announcements" tab in the Help Center Use the link in the help menu when you're in Google Ads Don't forget to bookmark!
>> Read More
Drive better results: An insider's look at the latest Google Ads innovations
(Thu, 25 Oct 2018)
With the busy holiday season ahead, we're investing in new ways to help you work smarter and exceed your omnichannel goals. Check out the innovations we unveiled today at SMX East. Easier ways to manage your messages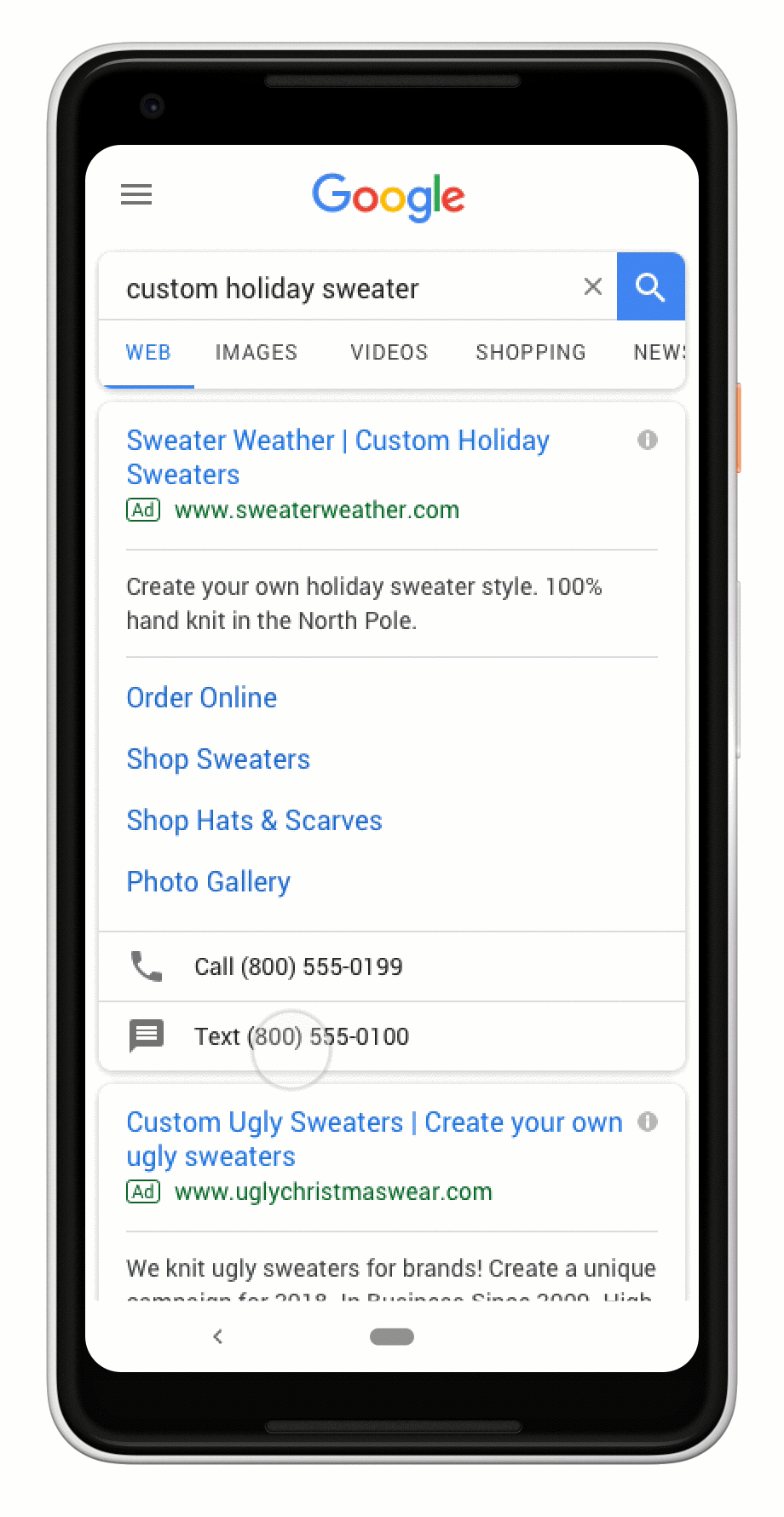 It's no surprise that messaging has become a big part of our modern lives. If you're inviting a friend to "Friendsgiving" dinner, you're probably sending a quick text message. In the coming weeks, we're rolling out two improvements to 
click-to-message ads
: Email forwarding sends text messages to your email, so you don't need to provide a phone number to use message extensions. Responding to the email will automatically send a text reply back to your customer. Automatic reply sends a preset message back to customers as soon as they message you. For example, you can automatically reply with, "Thanks for your message. We'll get back to you within the hour." To help measure the success of your click-to-message ads, we're expanding message reporting to include message conversions. You'll be able to define the number of user-initiated exchanges needed to count as a conversion. For example, if it typically takes two or more exchanges before a customer orders holiday dinner from your restaurant, you can set that as your conversion threshold. "Using message extensions, we can offer fast assistance when our busy customers are looking for a style recommendation or opinion on fit, and can easily share images and links. Now, message reporting will help us analyze which parts of our campaigns are driving the most in-depth, valuable conversations with stylists, and where we can improve performance." - Michaella Kurdziel, Director of Experience Excellence & Learning at MM.LaFleur Take action on your data across online and offline channels Most customer journeys still end in store, and
61% of shoppers
would rather shop with brands that have a physical location than ones that are online only.1 Businesses need to measure the offline impact of digital advertising in order to take action on omnichannel behavior:
store visits
measurement is one way to do that. As a reminder, store visits are estimates based on data from users that have turned on Location History. Only aggregated and anonymized data is reported to advertisers, and they aren't able to see any store visits from individual website visits, ad clicks, viewable impressions, or people. To help you take action on store visits, we're bringing these insights to
data-driven attribution
and
Smart Bidding
which use machine learning to help you improve performance. Data-driven attribution helps you understand which keywords, ads, ad groups, and campaigns have the greatest effect on your business goals. You can use this information to drive more conversions using Smart Bidding. We're also adding more ways to measure the full value of your marketing. In the coming weeks,
Store Visits in Google Analytics
will start rolling out to eligible advertisers to connect store visits to other marketing efforts that bring customers to your website and then to your store. One example of a business measuring the online to offline impact of its marketing is department store JCPenney. JCPenney had long recognized that digital campaigns led to store visits but wasn't able to attribute those visits to specific channels. With Store Visits in Google Analytics, JCPenney was able to look at store visits and visit rate by channel to understand which online marketing channels were most effective in driving in-store visits, and efficiently scale investment in those channels. We hope these new products can simplify your day-to-day and improve performance across your Google Ads campaigns during the holiday season and beyond. 1.  Google/Ipsos, "Shopping Tracker," April - June 2018, Online survey, US, n=2703 adults 18+ who shopped in the past two days. Response based on top 3 box 7 pt scale.
>> Read More
Explore product search trends with Shopping Insights
(Tue, 16 Oct 2018)
With the world of commerce at their fingertips, consumers are more curious, more demanding and more impatient than ever before. As a result, retailers have to anticipate customers' needs in order to provide the products they're looking for and plan marketing strategies. In a recent study, we learned that 84 percent of Americans are shopping in any given 48-hour period, in up to six different categories.1 Whether they're looking up designer sneakers or DSLR cameras, Google is the first place they go to discover a new brand or product.2 Starting today, a new version of our
Shopping Insights
tool can help you uncover which products and brands are popular, trending up or down, and how these insights vary by regions in the U.S. This new version includes data for more than 55,000 products and 45,000 brands—significantly increasing coverage over the
previous version
—as well as nearly 5,000 categories. It's a free tool, available to everyone, that can help you follow trends in your categories. In addition to more data, we've also added several key features to help you inform your strategies. Compare the popularity of a brand within searches for a category Nearly nine out of 10 smartphone users are not absolutely certain of the brand they want to buy when they begin looking for information online.3 That's a huge number of consumers looking to uncover new brands and products. With this new feature, retailers can track the relative popularity of various brands within a category and adjust their strategies accordingly. For example, the most-searched backpack brands of last 12 months were JanSport, Fjällräven and The North Face, classic brands that have been around for at least 50 years. Searches for the category and all three brands peaked during back-to-school season in 2018, and saw slight growth during the holiday season.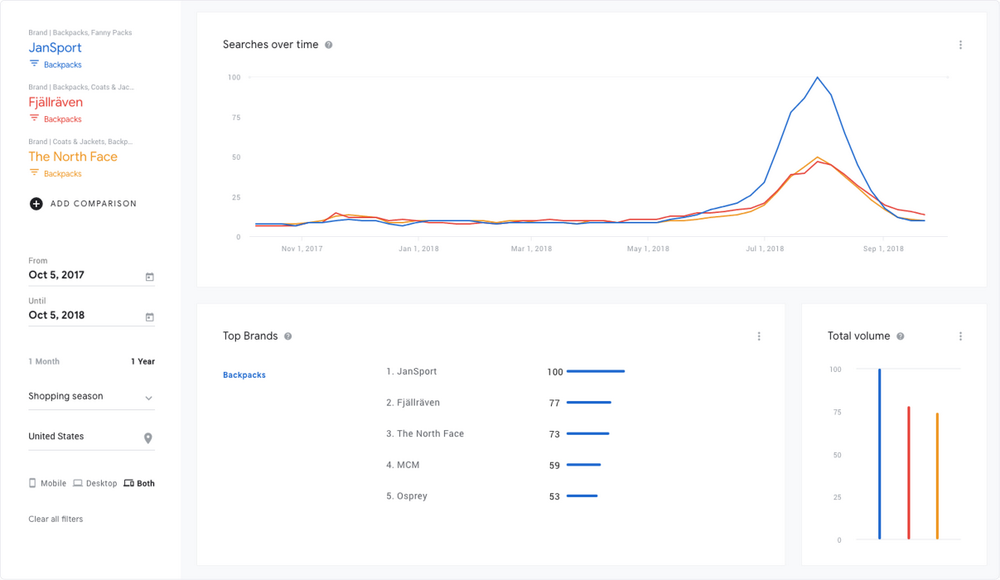 Example: Relative search volume for top backpack brands, Oct 2017 - Oct, 2018 But if you reset your time range in Shopping Insights to the holiday season in 2017 (see below), you'll find that a very different brand was popular in search.
MCM
, a luxury brand that specializes in "street luxe"–a fashion trend popular among millennial shoppers–was the most-searched brand when consumers were shopping for backpacks. It continued to grow in December, even when searches for other brands were tailing off, peaking on December 25. In fact, MCM was also the only luxury brand in the top 10. By tracking this data weekly, marketers can optimize their tactics in season, and respond to changing consumer preferences within different categories.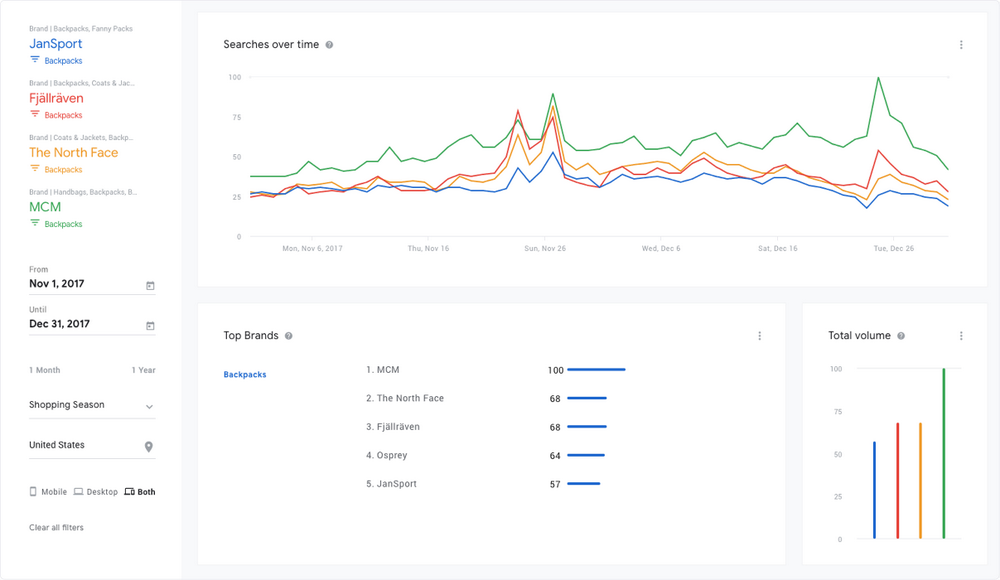 Example: Relative search volume for top backpack brands, Nov 1 - Dec 31, 2017 You can also use Shopping Insights to understand the relative importance of brands within different categories, and how consumers search for products. In the example above, while MCM was the most searched brand, the top three brands were only mentioned in
~8 percent of the queries
. This means most users were searching using keywords that described the category and characteristics of the products they were looking for, rather than specific brands. In contrast, for video game consoles, the top three brands were mentioned in
~90 percent of the queries
. Whether shoppers are searching for specific products, using broader shopping queries or brands, knowing this information will help you adjust your marketing strategy.
Showcase Shopping
ads, for example, can help retailers tap into consumer demand in such categories.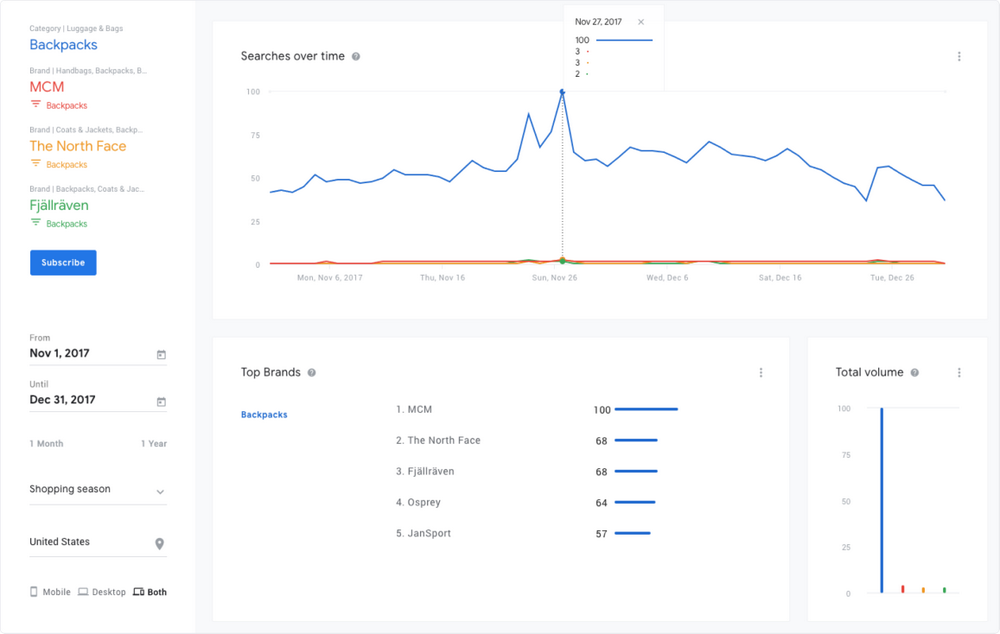 Example: Shopping searches and top brands in Backpacks category, Nov 1 - Dec 31, 2017 Subscribe to personalized reports with weekly and monthly trends You can now create up to 10 weekly and monthly email reports for the products and categories you want to follow, so you don't miss current or future trends. We'll send you additional data on popular, growing and trending products and brands. For example, in our monthly category reports, we determine which products are trending up or down by removing noise and seasonality effects from the product's search volume. In weekly reports, you can see which products grew the most in the previous week, as well as any outliers.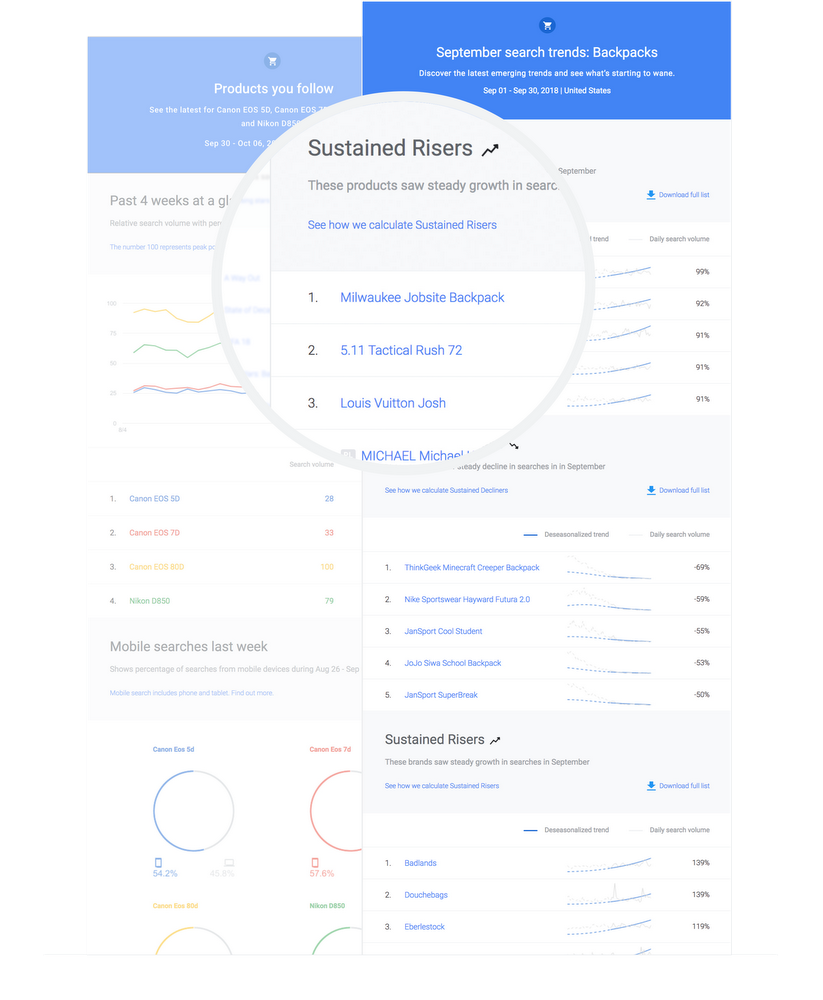 Example: Monthly report about trends in Backpacks, September, 2018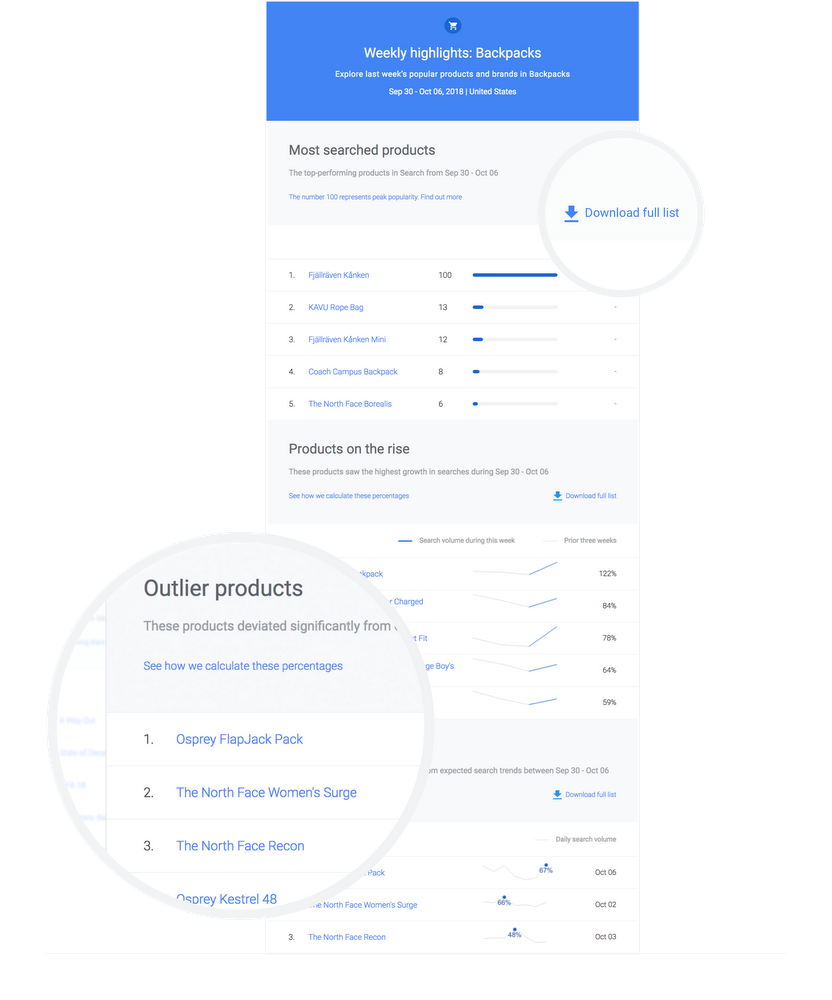 Example: Weekly highlights report for Backpacks, Sep 30 - Oct 06, 2018 Getting started with Shopping Insights The Shopping Insights Tool is available on desktop and mobile in the U.S. Start exploring the data and subscribe for free reports on
Shopping Insights
today. 1. Google/Ipsos, "Shopping Tracker," Oct - Dec 2017, Online survey, US, n=3,613 online Americans 13+ who shopped in the past two days. 2. Google/Ipsos, "Shopping Tracker",April - June 2018, Online survey, US, n=2703 adults 18+ who shopped in the past two days 3. Google / Ipsos Connect, Jan. 2018, Playbook Omnibus 2018, n=1,604 US online smartphone users, A18+
>> Read More
Helping shoppers buy effortlessly from Best Buy, Nike, and Sephora over the holidays
(Tue, 16 Oct 2018)
Today, 76% of U.S. holiday shoppers over 18 use three or more channels.1 At the same time, they expect their experiences to be fast, frictionless, and personalized wherever they are, on whatever device they use. A recent study shows that Google is the first place US shoppers go to discover or find a new brand or product. With
Shopping Actions,
they can move seamlessly from browsing to buying with a universal cart that works across Search, the Google Assistant, and Google Express whether they're on mobile, desktop or even a Google Home device. Today, we're announcing new Shopping Actions partnerships with Nike, Best Buy, and Sephora, enabling shoppers to search and shop effortlessly for tens of thousands of products ahead of this holiday season. Best Buy gives customers even more ways to shop Best Buy knows that when it comes to buying tech, it's important that customers can shop how, when and where they want. With Shopping Actions, Best Buy's products are now available on 
Google Express
. Shoppers can use their voice to ask the Google Assistant to check store hours, order status, or even place an order.  "We're committed to enriching lives with technology, and part of that means giving people the tools they need to research and buy in stores, online and at home. This partnership let's our customers explore the latest tech in a whole new way." -Allison Peterson, President of E-commerce, Best Buy Nike serves athletes wherever they shop As the first brand from the Footwear and Apparel industry to join Shopping Actions, Nike makes it easy for shoppers to discover and buy from a rich online assortment. Whether they are shopping through Search or with their voice on the Google Assistant, later this month shoppers will be able to find and buy Nike products directly on Google's platforms. "We're excited to partner with Google and together deliver premium Nike content and inspiring experiences to consumers. We'll enable frictionless discovery and purchase of Nike products across Google's ecosystem and elevate the consumer experience with direct access to Nike products and additional benefits when they add their NikePlus membership at checkout." - Eric Wood, VP of Digital Partnerships, Nike Sephora leads the way in seamless omnichannel experiences Sephora is passionate about seamless shopping. Across their award-winning App, website, and 400+ stores, Sephora constantly innovates to offer a connected, smart and fast shopping experience. With 1 out of 3 last-minute shoppers saying they choose where to buy gifts based on how soon they can get them, Sephora saw a perfect fit with Shopping Actions.2 Sephora clients can 
now buy
 across Google's properties and earn valuable Beauty Insider points with each purchase as part of Sephora's robust loyalty program -- with overnight delivery to almost anywhere in the US. Get started Nike, Best Buy, and Sephora join 
hundreds of other merchants
 already taking part in the program, a 7x increase since we first launched the program. It's easier than ever to join Google Shopping Actions, thanks to integrations with e-commerce solution partners including ChannelAdvisor, CommerceHub, Feedonomics, and Zentail. Even more are coming soon. However big or small your business, Shopping Actions can help you reach more customers faster and easier. Learn more: fill out our
interest form
. 1. Google/Ipsos, U.S., Omnichannel Holiday Study, Holiday shoppers 18+ who shopped in previous 48 hours, n=5944, Nov. 2017–Jan. 2018. 2. Google/Ipsos, U.S., Omnichannel Holiday Study, Holiday shoppers 18+ who were last minute shoppers n=1121, Nov. 2017–Jan. 2018.
>> Read More
From discovery to click, new YouTube ads capabilities for more effective video storytelling
(Mon, 01 Oct 2018)
The heightened role of video throughout today's consumer journey is an exciting opportunity for marketers to build connections that drive better business outcomes. At Advertising Week New York, we're announcing new ways for marketers to become more effective full-funnel storytellers using the combined power of YouTube's creative canvas with Google's machine learning and measurement solutions. Help viewers take action with extensions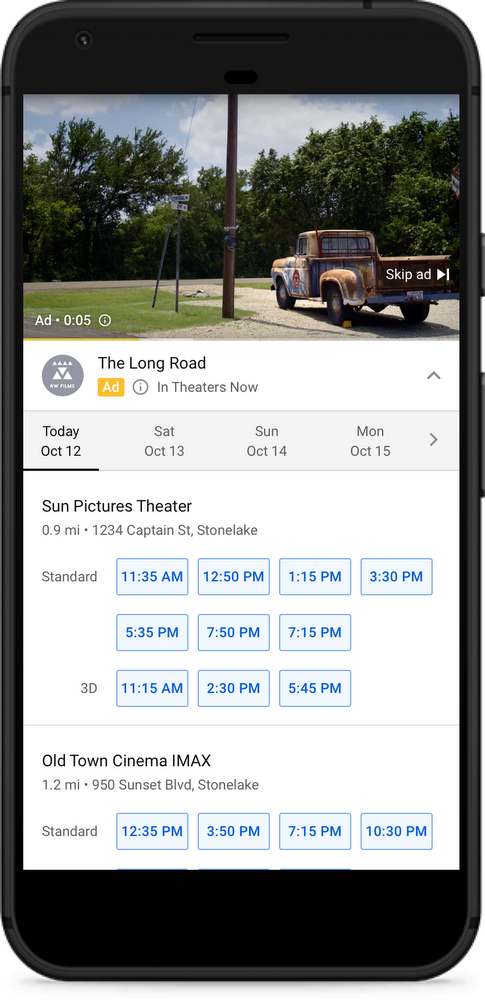 Soon you'll be able to make your video ads more actionable with a greater variety of ad extensions. Similar to extensions on Search ads, extensions on YouTube enhance your video ad with additional useful information—giving consumers more reasons to take action. You can already add
location
and
form
extensions (currently in beta) to your TrueView in-stream ads. Now we're exploring additional use cases that encourage viewers to complete lower-funnel actions like finding the next movie showtime, downloading an app or booking a trip. Brands like Vodafone,
Chili's
, 20th Century Fox, Headspace and Maybelline are already using extensions for video ads to bring more relevance to their mobile ads and drive impact on the metrics that matter most. Using extensions, Vodafone drove a 2.3x incremental lift in Ad Recall and a 3.5 percent CTR—a 785 percent increase over their regional benchmark. Measure the full impact of your video campaign Video storytelling isn't just about driving short-term campaign wins—it's also about driving measurable results at every stage of the consumer journey. We know this is easier said than done, which is why we're evolving our
Brand Lift
solution and partnering with
IRI
to make it simpler for advertisers to measure and act upon upper- and lower-funnel metrics. Based on your feedback, soon you'll be able to set up Brand Lift studies directly in Google Ads or Display & Video 360 and conveniently view reporting alongside your other ad metrics. We've also started sending Brand Lift surveys continuously throughout the duration of your campaign so you can understand how your video ads are influencing viewer perceptions in near real time. Additionally, we've introduced two new metrics:
lifted users
, the number of people who were influenced by your ad, and
cost-per-lifted-user
to make it easier for you to optimize your campaign's effectiveness and cost-efficiency. To get the most out of these new measurement tools, we recommend using
Maximize Lift bidding
. We're also ramping up our investments in
Google Measurement Partners
to ensure our advertisers can measure YouTube media with measurement solutions that meet rigorous, verified standards. We work closely with partners to ensure their solutions respect user privacy. In addition to Nielsen Catalina Solutions (NCS) and Oracle Data Cloud, soon CPG advertisers will have the option to measure their YouTube media using IRI. These offerings complement geo experiments with Nielsen MPA, giving advertisers a variety of options for seeing the offline impact of their video ads. Last week
we also announced
expanded integrations for brand suitability and reach reporting, continuing our commitment to providing both quality and choice when it comes to helping marketers better understand their media investments. We're excited about how these capabilities can help take your campaigns to the next level, driving real business impact all along the customer journey.
>> Read More
New MRC accreditations and partners for Google and YouTube ads measurement
(Wed, 26 Sep 2018)
Is my marketing working? It sounds like a simple question, but in today's complex environment, answering it correctly is a challenge. To help advance advertising measurement, we've invested in third-party accreditations through the Media Rating Council (MRC), and partnerships with leading measurement technology providers. Together, these efforts help ensure that the metrics our advertising solutions deliver are trusted, align with industry standards, and can be compared across providers. Today, we're announcing new MRC accreditations across Google
advertising products
, including Google Ads, Google Marketing Platform (specifically Display & Video 360 and Campaign Manager), and Google Ad Manager.1 We've also made progress with
Google Measurement Partners
for viewability, brand safety, and reach reporting on YouTube. Trusted metrics across Google's advertising solutions Advertisers consistently tell us that they struggle with comparing media placements to determine where to invest their limited marketing resources. It's a problem that's made even worse when media providers use different definitions of commonly accepted metrics like clicks, impressions, and viewable impressions. By endorsing the MRC standards and Interactive Advertising Bureau (IAB) guidelines for media measurement, we stand on the side of marketers, who deserve transparency and fairness in their media buys. Below, you'll see the comprehensive list of MRC accreditations we currently maintain across search, display, and video ads on the web and in apps. Accredited metrics include various aspects of our clicks, served impressions, viewable impressions, and invalid traffic detection and filtration.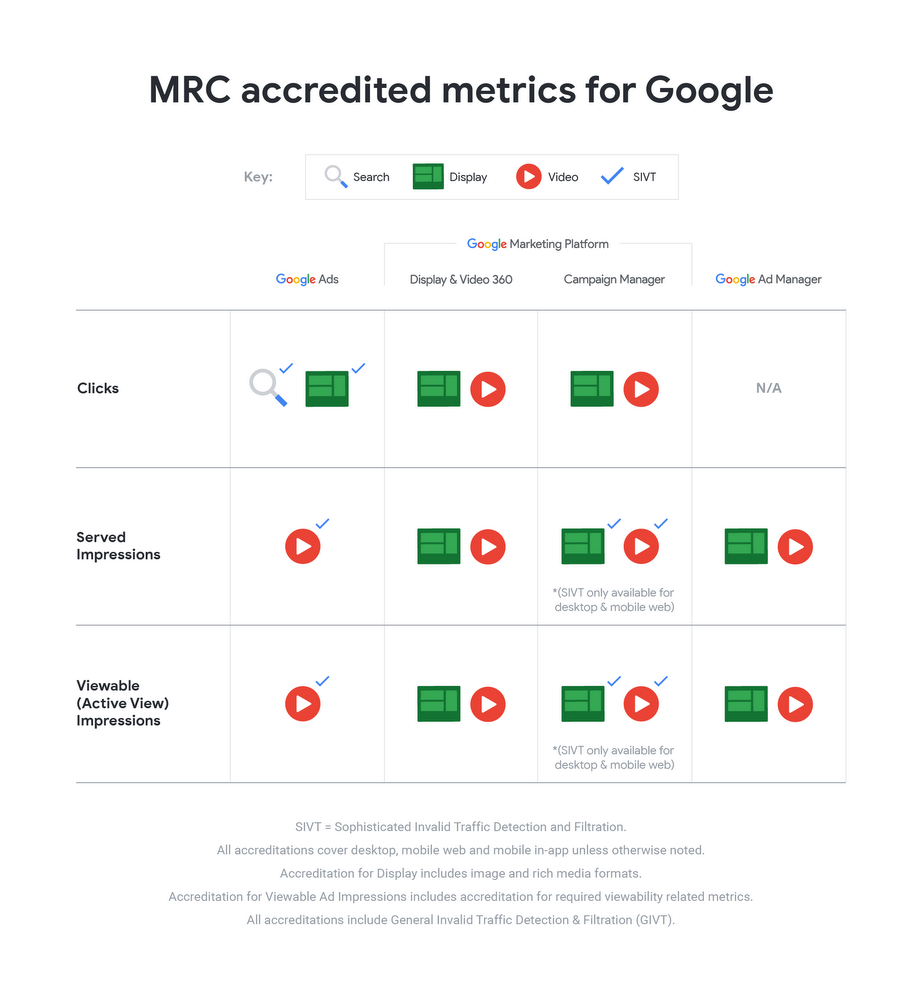 With today's announcements, YouTube video ad impressions and viewability metrics for desktop, mobile web, and mobile in-app are now fully MRC accredited in Google Ads, Display & Video 360, and Campaign Manager. And we've begun the audit process for MRC accreditation of recently added metrics, including brand safety and Unique Reach reporting on YouTube in Google Ads. "Google has consistently demonstrated a commitment to helping advertisers and publishers achieve transparency and quality in measurement through its work with the MRC. In addition to submitting products for initial consideration for MRC accreditation, Google also has expanded on the scope of what's being submitted for existing accredited products. This progress is emblematic of what we at MRC consider to be our core industry mission: to help lift the bar for quality in measurement consistently upward." —George Ivie, CEO and Executive Director, Media Rating Council "Google's efforts to create transparency and choice through MRC accreditation demonstrates their commitment to delivering a better, more responsible advertising ecosystem. The ultimate goal is to ensure transparency at every step in the complex advertising supply chain, and Google's efforts are helping us achieve that objective." —Bob Liodice, CEO, ANA More transparent YouTube measurement with trusted partners To help advertisers measure YouTube media in a verified, privacy-safe way with the measurement solution of their choice, we've also made progress with Google Measurement Partners for viewability, brand safety, and reach reporting. First, the YouTube data feed for video viewability reporting by third-parties is currently under audit by the MRC. Our ultimate goal is to achieve MRC accreditation for our integrations with DoubleVerify and Integral Ad Science (IAS), so advertisers can be confident that YouTube metrics have been third-party verified, no matter where they choose to measure. In addition, brand safety verification on YouTube by both DoubleVerify and IAS is now in expanded beta. In beta tests with DoubleVerify and IAS, we're seeing 99 percent success rates on brand safety across both auction and reserve, including Google Preferred.2 We're also expanding our partnerships for reach measurement, which now include Nielsen, comScore, Kantar, and soon, Meetrics. This month, YouTube's integration with Nielsen for mobile in-app measurement has expanded to Australia and Italy. This is in addition to the U.S., Canada, Japan, U.K., Germany, and France which are already available. To know if their marketing is working, advertisers need access to accurate, timely metrics they can trust, regardless of which measurement provider they choose. Looking to the future, we'll continue investing in measurement solutions and partnerships that help advertisers understand and compare the impact of their investments using commonly accepted metrics and standards. 1. New MRC accreditations achieved since our
blog post
in February 2017 include: Google Ads: Served Ad Impressions for video on desktop, mobile web and mobile in-app Viewable Ad Impressions for video on desktop, mobile web and mobile in-app Sophisticated Invalid Traffic Detection & Filtration for Clicks for search and display on desktop, mobile web and mobile in-app, and Viewable Ad Impressions for video on desktop, mobile web and mobile in-app Google Marketing Platform: Display & Video 360: Clicks for display and video on desktop, mobile web and mobile in-app Served Ad Impressions for display and video on desktop, mobile web and mobile in-app Viewable Ad Impressions for display and video on desktop, mobile web and mobile in-app Campaign Manager: Clicks for display and video on desktop, mobile web and mobile in-app Served Ad Impressions for display on mobile web and mobile in-app Viewable Ad Impressions for display on desktop, mobile web and mobile in-app Sophisticated Invalid Traffic Detection & Filtration for Served Ad Impressions and Viewable Ad Impressions for display and video on desktop and mobile web Google Ad Manager: Served Ad Impressions for display on mobile web and mobile in-app, and for video on mobile in-app Viewable Ad Impressions for display on mobile web and mobile in-app, and for video on desktop, mobile web and mobile in-app 2.  DoubleVerify and IAS Testing, Global, June 2018
>> Read More
How to help shoppers looking for inspiration this holiday
(Thu, 13 Sep 2018)
Gone are the days where shoppers had one specific gift in mind. Today, they're asking brands to help inspire them.
Our research
also shows that 61 percent of shoppers are open to buying from new retailers during the holiday season—and in the 2017 holiday season 46 percent of them actually did. That's a huge number of consumers looking to uncover new brands and products or re-discover old favorites. But with so much choice at their fingertips, shoppers need help cutting through the clutter and feeling confident in their choices. A recent study shows that Google is the first place US shoppers go to discover or find a new brand or product. That's why we're continuing to invest in solutions to drive inspiration and discovery, capture intent, and amplify your message to customers, wherever they're shopping across Google and the web. So lean back, grab an eggnog (it's never too early), and learn about how consumers plan to shop this holiday—and how Google can help. Helping shoppers discover with video in Showcase Shopping Ads When it comes to finding new products and narrowing down their choices, nearly two-thirds of shoppers say online video has given them ideas for their next purchases, and over 90 percent of these folks say that they've discovered new products and brands via YouTube. Video to Showcase Shopping ads helps shoppers more deeply engage with your products. This is our first retail search ad unit to feature video, designed to help you provide a more immersive, contextual experience for shoppers.   Video in Showcase Shopping ads is the next addition to the Showcase Shopping ads we
launched last year
, which let you upload multiple images to a single ad and promote your products through beautiful imagery, descriptions, products, and relevant promotions. Since launch, we've seen that the top Showcase slot drives 3.6X higher than average CTR, and Showcase receives 20 percent more conversion credit with first-click attribution. And retailers like Venus Fashion are seeing success with acquiring new customers: 68% of purchases from shoppers who engage with Venus Showcase ads are new.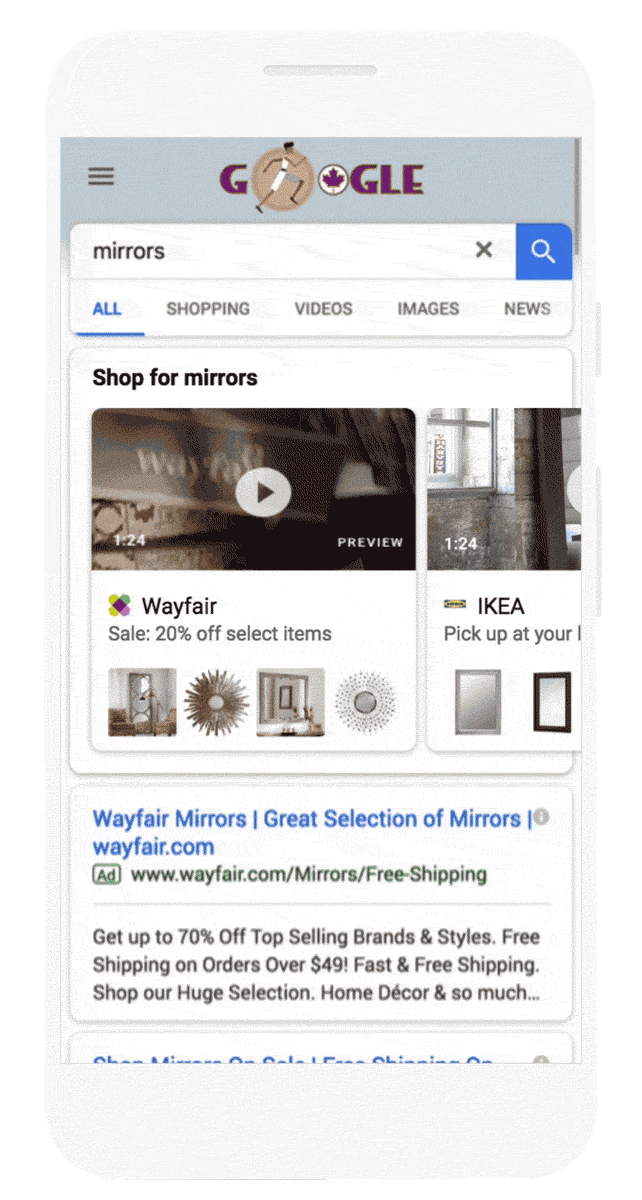 This format is available to advertisers already running Showcase Shopping ads. Inspire undecided shoppers with Shoppable Image ads Curious consumers aren't just finding inspiration through video. Did you know that more than one-third of holiday shoppers said they searched for images before they went in store to shop? The growth of "street style" and online influencers all show the movement towards looking at lifestyle images for visual inspiration. Shoppable Images enable you to highlight your shopping ads on curated, published content from our publisher partners. For publishers, it's a chance for shoppers to be able to purchase seamlessly. For example, a shopper might visit her favorite blog like
This Time Tomorrow
, and see a selection of visually similar offers after clicking the tag icon in the image. Over the next year, we will continue to roll out this experience to more publishers, as well as pilot new surfaces like Google Image Search, where we also know shoppers go to look for inspiration.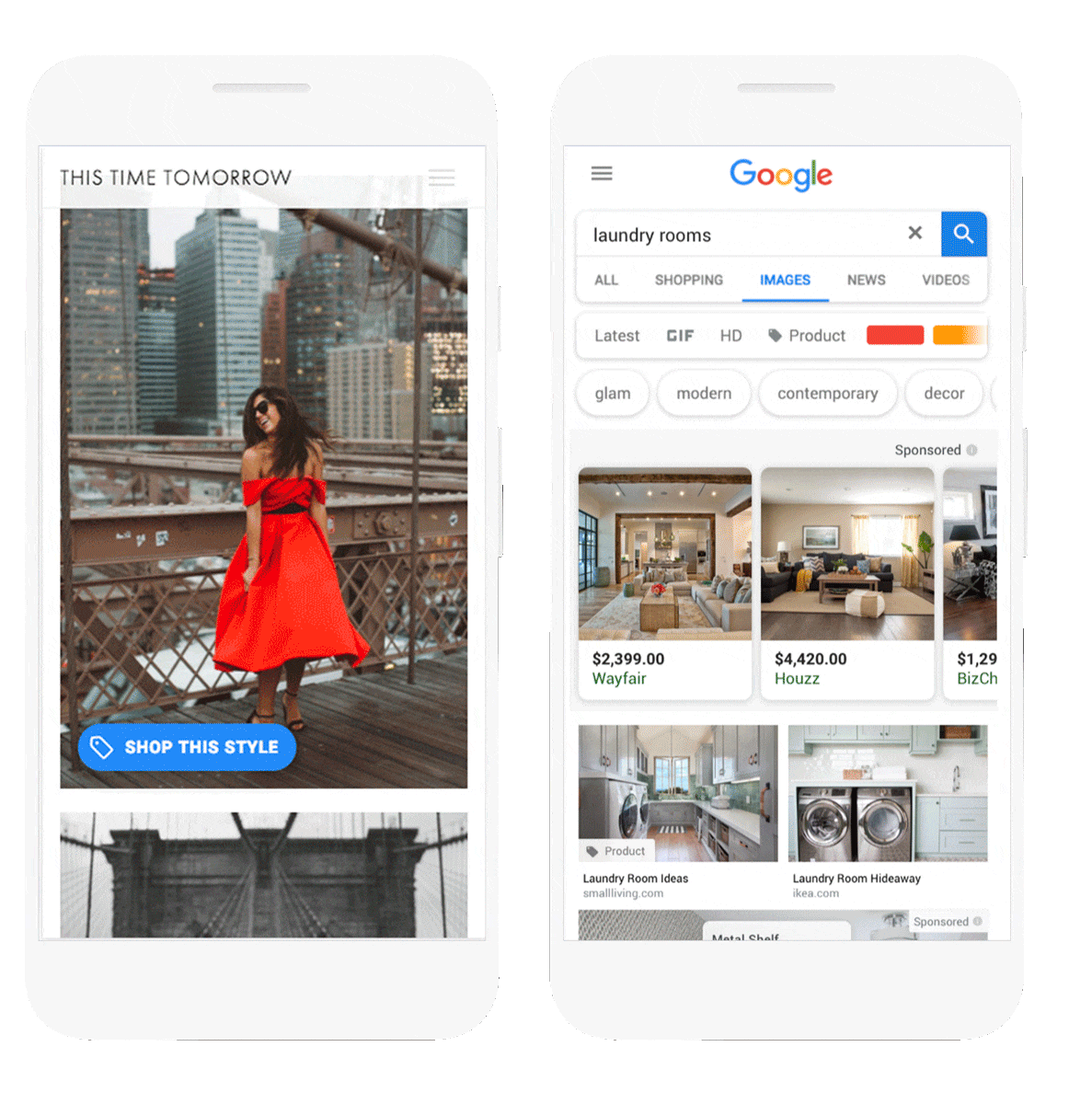 Left: Shoppable Images publisher experience Right: Image Search experience mock We hope these updates help you stand out from the crowd and capture undecided shoppers' attention with inspirational imagery and video. For a look into more consumer trends this season, check out our
Think With Google article
on holiday 2018 insights. 1 Google/Ipsos, "Shopping Tracker", April - June 2018, Online survey, US, n=2703 adults 18+ who shopped in the past two days 2 Google internal data, 2018
>> Read More
Restricting ads in third-party tech support services
(Fri, 31 Aug 2018)
One of our top priorities is to maintain a healthy advertising ecosystem, and that means protecting people from misleading, inappropriate and harmful ads. We have teams of engineers, policy experts, product managers and others who wage a daily fight against bad actors.
Over the years
, this commitment has made the web a better place for our users—and a worse place for those who seek to abuse advertising systems for their own gain. Just last year alone, we took down more than 3.2 billion ads that violated our advertising policies—that's more than 100 bad ads per second. When we see an increase in misleading or predatory behaviors in specific categories, we take additional action. For example, we've banned ads for
payday loans
and
bail bonds services
—and developed advanced verification programs to fight fraud in areas like local locksmith services and addiction treatment centers. Today, we're taking another step. We've seen a rise in misleading ad experiences stemming from third-party technical support providers and have decided to beginrestricting ads in this category globally. For many years, we've consulted and worked with law enforcement and government agencies to address abuse in this area. As the fraudulent activity takes place off our platform, it's increasingly difficult to separate the bad actors from the legitimate providers. That's why in the coming months, we will roll out a verification program to ensure that only legitimate providers of third-party tech support can use our platform to reach consumers. These efforts alone won't stop all bad actors trying to game our advertising systems, but it will make it a lot harder. There's more to do, and we'll continue committing the resources necessary to keep the online advertising ecosystem a safe place for everyone.
>> Read More